Roush Review: 'Ten Days in the Valley,' 'Inhumans,' 'Ghosted,' 'Wisdom of the Crowd' Round Out Weekend Premieres
Taking a page from cable TV's playbook with effective results, ABC's Ten Days in the Valley is a tense, taut and entertaining thriller in which bad things happen to flawed people. It will keep you guessing, and no doubt watching, as hidden agendas and red herrings add to the intrigue surrounding the apparent kidnapping of a young girl.
The Closer's Kyra Sedgwick makes a most welcome return to TV as Jane Sadler, a train wreck of a single-mom TV producer who isn't alone in believing her nightmare is partly of her own making. Edgy, brittle and vulnerable, Jane's sole soft spot is for daughter Lake (Abigail Pniowsky), who likes to play a game ominously called "Secrets." (In this Valley, everyone's got one.) After one round, Jane tucks in for an Ambien-induced sleep, only to be awakened by the crew of her fictional TV crime drama, demanding an overnight rewrite. Fueled by alcohol and illegal stimulants, Jane crashes in an adjacent work space, later discovering her daughter is no longer in bed where she's supposed to be.
Even when Jane makes terrible and exasperating decisions (like lying to the police about her drug dealer), Sedgwick is such a vibrantly passionate presence that you feel empathy for her escalating predicament. And like her, you begin almost instantly to distrust everyone around her—and sometimes for good reason—including her recovering-addict ex-husband (Kick Gurry), her simpering assistant (The Walking Dead's Emily Kinney), her supportive yet critical sister (Erika Christensen) and ambitious co-workers including a head writer played by Malcolm Jamal-Warner. The strong ensemble also features Lost's Adewale Akinnuoye-Agbaje as the lead detective, trying to keep an open mind despite Jane's reckless maverick nature.
At only 10 episodes, Ten Days isn't likely to wear out its welcome. In fact, this week and a half already feels like it's going to fly by.
THE UNWATCHABLES: Maybe Marvel should just slow down and take a breath. The comics titan is invading TV from all sides—multiple shows on Netflix, new ones on Freeform and Hulu and (the best of the bunch) The Gifted on Fox—and in Marvel's Inhumans, it drops a stink bomb of a fantasy dud that would be laughably asinine if it weren't so dreadfully, cartoonishly dull.
You know you're in trouble when a giant CGI bulldog (named Lockjaw, which would be less painful a condition than watching
Inhumans
) steals the show from a royal family of supposed heroes, who seem more like oppressors in their magically hidden city on the Moon. Are we supposed to root for stony-faced King Black Bolt (a glowering Anson Mount), who stays mute because his voice can bring down mountains? (Mount is the lucky one, being spared having to speak the risible dialogue.) His brother Maximus (
Game of Thrones' wily Iwan Rheon
) is a villainous upstart, but seems like a lot more fun. Bolt's queen, Medusa (Serinda Swan), has a flowing red mane with a mind of its own—some of the best animated hair since
The Little Mermaid
's Ariel—and that's pretty much it for characterization.
When a coup sends the royals running for their lives, they somehow end up in Hawaii. And if you're watching this on Fridays, there's no way Hawaii Five-0 won't look like a more appealing option.
MOB JUSTICE: Amazingly, Inhumans isn't this weekend's worst new show. That dishonor belongs to CBS's latest crime-drama venture, Wisdom of the Crowd, yet another series that imagines that a tech guru (an insufferably smug Jeremy Piven) can lead us to the promised land—this time with a crowd-sourcing crime-solving app in which everyone with a cell phone is encouraged to rush to judgment.
It's a dangerous and ethically repulsive premise, only moderately softened by mediocre execution. (Naturally, Piven's character has an altruistic motive, driven to find his beloved daughter's murderer.) I have only one word for this drivel: Delete.

WHO YOU GONNA CALL?: High-concept comedies aren't always easy to pull off, as Fox discovered last fall with its animated/live-action hybrid Son of Zorn. This year, still seeking a companion piece to the undying The Simpsons, the network is going tongue-in-geek, with a sitcom send-up of The X-Files they're calling Ghosted, somewhat misleadingly hoping to conjure a Ghostbusters vibe.
This goofy not-quite-buddy comedy stars The Office's Craig Robinson and Parks and Recreation's Adam Scott as, respectively, a disgraced detective (Leroy) and an out-of-work astrophysicist (Max) with Mulder "I Want to Believe" leanings. Recruited by an agency known only as The Bureau Underground, led by always-badass Ally Walker, gruff Leroy and nerdy Max are a fairly typical mismatched TV odd couple until things start getting wacky and freaky, with a screaming severed head and an alien death ray adding thrills to the silliness.
At its best, Ghosted benefits from an improvisatory looseness in the stars' chemistry, and at worst, it's inoffensively derivative like so much of the rest of the networks' fall season. However, should these guys come across mutant moon creatures calling themselves the Inhumans, I want them to fight to the death, and I know which side I'd be rooting for.
Ten Days in the Valley, Series Premiere, Sunday, Oct. 1, 10/9c, ABC
Marvel's Inhumans, Series Premiere, Friday, Sept. 29, 8/7c, ABC
Wisdom of the Crowd, Series Premiere, Sunday, Oct. 1, 8:30/7:30c, CBS
Ghosted, Series Premiere, Sunday, Oct. 1, 8:30/7:30c, Fox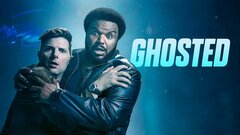 Ghosted
where to stream