3 Things You Need to Know About Fox's 'Ghosted', Starring Craig Robinson and Adam Scott
They're not exactly Mulder and Scully. At least not yet. On Fox's new comedy Ghosted, skeptical LAPD detective turned mall security officer Leroy Wright (The Office's Craig Robinson) and Stanford professor turned bookstore employee—and true believer—Max Jennifer (Parks and Recreation's Adam Scott) become the newest recruits to the mysterious organization the Bureau Underground, which investigates everything paranormal. Yeah, we think there's going to be some on-the-job training. The cast and executive producer give us the scoop on what to expect from the new series.
1 Despite the title, they're not just chasing ghosts. "We have this aquatic hybrid creature, with tentacles coming out of its mouth, that gets loose," executive producer Tom Gormican says. Also on tap? Aliens, the ghost of a 19th-century ax murderer, a haunted hayride and a zombie rage virus.
2 The biggest investigation may be focused on the Bureau Underground itself. "It has been around since the Truman administration, so it has a deep history," Scott says of the fictional org. "They're dealing with aliens and monsters, kept from view from the whole world—just think of the things they're keeping from their own employees!"
3 The improv is out there. Robinson and Scott, who also produce the series, have delighted in putting their own fingerprints on the comedy. "Adam is the ultimate improvisation partner; I know if I throw the ball, he'll catch it," Robinson says. The feeling is mutual. "Craig is like the Zen master of improv," Scott says. "Getting to do scenes with him is a great joy."
Ghosted, Premieres Sunday, Oct. 1, 8:30/7:30c, Fox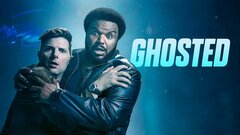 Ghosted
where to stream
Powered by