Crowdsourcing Crimefighters Rule the Jeremy Piven-Starrer 'Wisdom of the Crowd' This Fall
Tech billionaire Jeffrey Tanner (Jeremy Piven) has one goal: Find the man who killed his twentysomething daughter, Mia (Abigail F. Cowen). So he launches "Sophe," a social-media platform that uses crowdsourcing to catch criminals in CBS's timely Wisdom of the Crowd. After all, if two heads are better than one, then 326 million should be pretty darn helpful. What he's unprepared for are the hundreds of other cases Sophe can potentially close in the meantime.
"Tanner is on a journey to either redemption or self-destruction," executive producer Ted Humphrey says. "He was destroyed by losing his daughter. Now he's willing to sacrifice everything—financially and emotionally—on this quest." He's also angry with the San Francisco cops for wrongly accusing Mia's friend Carlos (Ramses Jimenez) of her murder—despite protests from lead detective Tommy Cavanaugh (Richard T. Jones), who later becomes Sophe's police contact.
See Also
Matt Roush takes a deep dive into all of the major offerings within the busy 2017 fall TV season
The initial episodes of Crowd focus on Mia's murder and on a crime of the week. The cases come from app users, personal pleas and sometimes even the stumped police. But while Tanner's endeavor seems nice, is it tenable? "The internet and social media have been helping cops for years," says Humphrey, who began his career as a lawyer. "They used to put up 'wanted' signs in post offices. Now they just put them on websites and Twitter."
Wisdom of the Crowd, Premieres Sunday, Oct. 1, 8:30/7:30c (moves to 8/7c on Oct. 8), CBS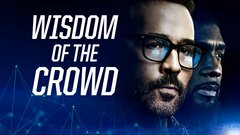 Powered by