Roush Review: 'Will & Grace' Still Has the Magic
Some things never change. Some things get better with age. Pick your platitudes for happily reuniting with old friends, because they apply to NBC's merry, snappy revival of Will & Grace, rekindling fond memories of the network's gilded "Must-See-TV" era.
In an uninspired fall season where everything old-hat hopes to be new again, at least Will & Grace has the wit to acknowledge the absurdity of being stuck in time and not really caring, because they're still so fabulous and funny. "That never happened" is their blithe response to a query about all of the ill-advised plot corners they were painted into in the original 2006 series finale.
There's nothing musty about this comeback, featuring the entire Emmy-winning and well-preserved original cast (Eric McCormack, Debra Messing, Sean Hayes, Megan Mullally) "11 Years Later"—the premiere's episode title—along with the peerless James Burrows as director and creators Max Mutchnick and David Kohan. They haven't missed a beat as they immediately get down to silly yet sophisticated business, earning audience guffaws with their barbed humor.
The jokes have been updated with wisecracks about dating apps, fake news, Caitlyn Jenner and ABC competitor Shonda Rhimes, to name just a few targets, but the essentials are the same. Will (McCormack) is both gay and, in comedy terms, straight-man to his neurotic BFF Grace (Messing). Jack (Hayes) is the resident drama-queen smart-aleck, and Karen (Mullally) is forever pickled in a pill-and-martini haze, proudly "in the top 1% of income and blood alcohol level."
Groundbreaking in its time for helping normalize an aspect of gay life and acceptance for prime-time consumption, the new Will & Grace is happy just to be of its time upon its return. The premiere episode is all-out political-satire tomfoolery that would be at home on Saturday Night Live, as our progressive yet deeply shallow title characters wrestle with hypocrisy upon a visit to the White House, with feathers quite literally flying within the Oval Office by the end.
Next week's episode, the best of the three NBC made available for preview, reminds us how the series always had a finger on the pulse of popular as well as political culture. Tony-winner Ben Platt of the Broadway smash Dear Evan Hansen is the marquee guest star, an adorable hoot as an easily distracted millennial who develops a crush on Will. He's flattered, naturally, until Will becomes unsettled by this representative of the "new gay" mindset that confuses Stonehenge for Stonewall and seems to take for granted the struggles of their elders—and by extension the accomplishments of Will & Grace—in gaining them the societal freedoms they now enjoy. Preachy? Yes, but knowingly so, with a fond homage to Designing Women-era Dixie Carter/Julia Sugarbaker rants.
It's an example of a classic comedy delivering a classic episode, complete with rollicking scenes of inspired physical comedy for Jack, contending with a "full body compression garment" (think man-girdle), and Grace and Karen trapped in a high-tech shower a la Lucy and Ethel, although I Love Lucy never joked about a "safe word."
For now, let's give the last word to Karen, acting like the queen of Washington, D.C. in the opener as she rejects a cocktail, demanding to a manservant: "What's with the Laura Bush pour? Give me the full Pat Nixon!"
I'll drink to that—and to the return of Will & Grace.
Will & Grace, Season Premiere, Thursday, Sept. 28, 9/8c, NBC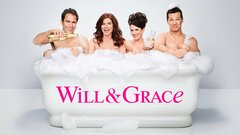 Powered by