'Ten Days in the Valley' Marks the Busy Kyra Sedgwick's Return to Primetime Drama
After decorated tours as a deputy police chief in The Closer and Brooklyn Nine-Nine, Kyra Sedgwick sure knows her way around a crime scene. But in ABC's Ten Days in the Valley, she finds herself on the other side of the yellow tape. The Emmy winner plays Jane, a high-strung TV producer whose young daughter is abducted. "It's a who- and why-dunit," says Sedgwick. "It's also a psychological thriller about truth. Is Jane to be trusted?" Sedgwick gives us a few key clues.
Jane's daughter is taken while Jane is getting high and writing a script in her backyard shed. What does that say about her? She's a great mother, but she's overwhelmed with work and dealing with her alcoholic estranged ex, Pete [Kick Gurry]. She reaches out to drugs, alcohol and sex to feel better. The show deals with what it's like to have mother's guilt. She's a dark, complex character, even more misguided than [The Closer's] Brenda Leigh.
Who are some of the suspects? Jane suspects everyone: Pete, her sister [Erika Christensen], her brother-in-law [Josh Randall], her nanny [Marisol Ramirez] and even her fellow writer [Malcolm-Jamal Warner]. She's unaware that it could be anything of her own making for a very long time.
Jane's relationship with an edgy cop (Adewale Akinnuoye-Agbaje) working on her case is complicated, isn't it? It's platonic—with the possibility of romance. They're fascinated by each other, and they're each very lonely.
As the mother of two (including 13 Reasons Why actress Sosie Bacon), is it tough to do a story about a missing child? Totally. I'm not Jane, but as a brilliant actress once said, "My mind knows it's a lie, but my body doesn't." That's why I'd like to do more comedy. [Laughs]
What's the most interesting thing about playing Jane? She's clueless and uninterested in self-examination. It's so funny, because I'm the opposite of that in real life and I keep getting chosen for those kinds of women!
Ten Days in the Valley, Premieres Sunday, Oct. 1, 10/9c, ABC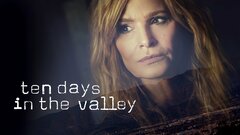 Powered by