Ask Matt: Is 'The Good Wife' Better Now? Plus, the 'Castle' Breakup, 'CSI's Finale and More
Welcome to the Q&A with TV critic (also known to some TV fans as their "TV therapist") Matt Roush, who'll address whatever you love, loathe, are confused or frustrated or thrilled by in today's vast TV landscape. One caution: This is a spoiler-free zone, so we won't be addressing upcoming storylines unless it's common knowledge. Please send your questions and comments to [email protected] (or use the new form at the end of the column) and follow me on Twitter.
Question: Do you think The Good Wife will rebound from its lackluster season last year? I've been a fan from the beginning and loved all the seasons, except for last year. It made no sense whatsoever for Alicia to run for office. She never expressed any desire for politics, and it was only after Eli and other characters suggested she run for State's Attorney that she decided to do so. All of the campaign nonsense was tedious, then to have her win but lose? Plus, poor Kalinda was subjected to a ridiculous story line of being an overpaid babysitter for drug dealer Lamont Bishop's child. What a waste of talent and Archie Panjabi's swan song! Cary got a bit of a story line (finally!) in the beginning with his arrest but once he was out, it was the Alicia show again. Although Alicia is the title character, I feel like last season was all about her and it didn't work as well. I also missed her being a lawyer. She left a prestigious law firm to start her own firm with Cary, and now she suddenly wants to be in politics?! Say what? It was so out of character for her and on this show, the politics are really preachy. I enjoy political shows (The West Wing, House of Cards, etc.) but don't want to see politics on The Good Wife, unless it's embedded organically into the cases she covers. This season, will Alicia return to being a lawyer? Will the supporting characters (Cary, Diane, even possibly her largely absent children) get better story lines? I was so disgusted with Season 6 after the stellar Season 5 that I am considering abandoning ship. — Stacy
Matt Roush: I wasn't nearly as down on last season as you were—if only for giving Julianna Margulies a chance to spar with the great David Hyde Pierce, Alicia's detour (reluctant, I might add) into politics wasn't a complete loss. But politics has always been an element of the series, as Alicia builds a career while being forced to maintain a façade with Peter because of his ambitions, and that's not going to change this year. Still, I'm happy to say that Alicia is back practicing law, but on a much lower rung of the food chain as the new season begins.
And as you can tell by my review after having seen the first two episodes, I'm very much on board with the show's latest reinvention. I've always admired The Good Wife's risk-taking in shaking up Alicia's world from season to season. I do agree that her exiting the firm she helped build has negatively affected the show's ensemble feel; in other words, I miss her working with Cary and Diane as opposed to now having them as antagonists again (for now). But Cary in particular has some strong material in the first weeks, Alicia's daughter Grace as well—she's pretty much her mom's entire staff at the moment. And the cast additions this year are terrific: the wonderful Margo Martindale as Peter's new political strategist, memorably sparring with Eli; Cush Jumbo as a spunky lawyer Alicia meets in bond court, and especially Jeffrey Dean Morgan (starting in episode 2) as an investigator who raises the show's sexual temperature on impact. I don't feel the show had that much of a decline to bounce back from, but it does feel refreshed this season, which is a very good thing.
---
Breaking Up With Castle?
Question: I was very excited about Castle this season and the incoming new showrunners promising to shake things up. Now, though, I'm not really sure what I feel about the show going forward. Watching Castle, usually live on Mondays, has become such a habit for so many years that the idea of jumping ship is difficult, but the decision to break up Castle and Beckett just feels like lazy writing. This feels like a regression rather than progression. The Bracken-murdered-Beckett's-mother storyline was resolved in a satisfying way in Season 6, and there doesn't seem to be any real benefit to opening that up again. Further, the new showrunners stated that they brought this break-up storyline about in order "to actually put the spark back in, and the stakes back in, which give us the fun and the juice." This seems like another way of saying that the writers find it too difficult to create interesting drama in the relationship without resorting to a breakup, which is lazy. I quite liked most of last season, in which Castle and Beckett were happily married, and I didn't feel it was dramatically lacking just because they were together.
The reasoning presented for the breakup is that Beckett wants to look into the new LOCKSAT conspiracy without endangering Castle due to his involvement. If they continue to work together (which is essential for the show), even if he is not working on LOCKSAT with her, then the people she is going after still know they can hurt Beckett by hurting Castle, which makes him a potential target anyway. And that renders the point of the separation moot. Please give me a reason to hang in there and continue watching. I really don't want to throw in the towel on this show. It just seems that the execution of this most recent hour was so sloppy, and I really don't see the potential paying any dramatic dividends that would be greater than if Castle and Beckett were still together. — Jake
Matt Roush: You're hardly alone in your discontent. Jenny wrote in to add that while she believes "Beckett loves Castle, I just think the writers have made her obsession ridiculous and it's gone on way too long, especially at the expense of the love story we all stuck around for from Day 1." Echoing Jake, Jenny ends her remarks by wondering, "Should we have faith?" And this is the crux of the current Castle dilemma.
From what I can tell, the fans truly want to keep enjoying this show, but the producers (or whoever) are making it way too difficult. Much like when Castle vanished on their first wedding day, these obstacles grow tiresome, and at this stage of the show's life, unnecessary. Longtime viewers are obviously torn about sticking with a show that has once again reneged on the payoff, the worst kind of deja view. In TV Guide Magazine's Returning Favorites issue, one of the producers promised, "The DNA of the show will always be the ongoing love story between Castle and Beckett. We still treat every episode as a romantic comedy. With murder." I don't doubt that we're meant to still believe Castle and Beckett are in love for the long haul, but putting them through this kind of emotional wringer again is neither compelling nor original. At this stage, would it be such a tragedy to let the show just be an escapist Hart to Hart-style romp? That's the show I'd prefer to see.
---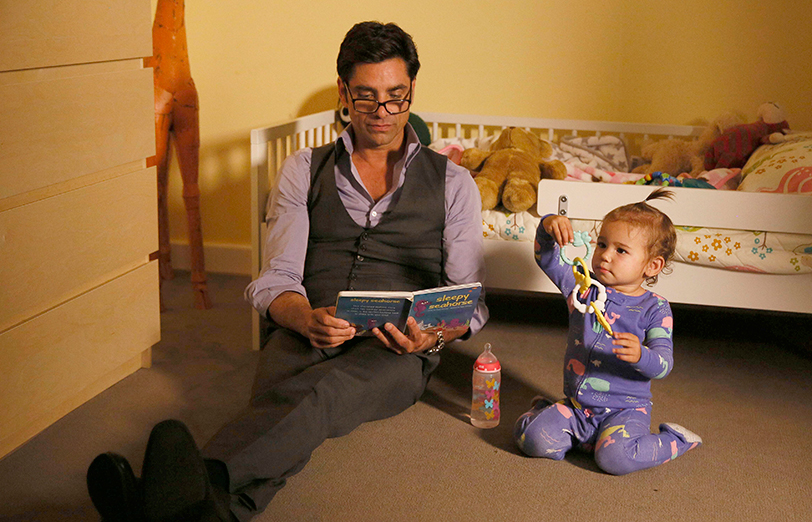 A Grandfathered Double Take
 Question: We watched the first episode of Grandfathered. In the first scene with the baby granddaughter, she was an adorable girl with medium-to-light hair pulled up in a topknot. Two minutes later in the second scene with the baby, the child looked totally different with dark hair down on her neck. We backed it up since we couldn't believe no one noticed the baby being different. Then the rest of the show had the original little girl. We know that in Full House, they had identical twins but here, they certainly were not identical. Did anyone else notice the difference??
Also, I have always I appreciated your comments about The Middle. I am from Muncie, Indiana, then moved to Texas in 2000. When my husband retired, we got a condo south of Bloomington, Indiana, at Lake Monroe. We live 15 miles from Bedford, the Limestone Capitol of the World. We love The Middle because we feel like it takes place very near where we live. We especially loved the episode about the Super Bowl being held in Indy and Frankie being assigned a job down in French Lick, two and a half hours from Indy. We understand all the inside jokes about Indiana. — Mary Jo
Matt Roush: I must have watched the Grandfathered pilot at least two or three times before reviewing it, and never noticed that. (I went back and looked, and yes, the hair on the back of the head looks very different, albeit she's shot from a different angle.) I guess I must be kind of like John Stamos's character in that all babies look alike to me as well. For the record, little Edie is played by twins—standard practice on TV—and presumably they're identical, but the producers clearly need to be more careful with continuity.
Regarding The Middle: As you may be aware, I'm also a Hoosier from birth—from Southeast Indiana, though schooled in Bloomington—and one of the great pleasures of this show is how accurately it reflects that region's middle-class culture, which is probably why Hollywood can't relate to or appreciate it adequately.
---
In Praise of CSI's Happy Ending
Question: Several years ago, I wrote to you regarding my extreme disappointment in CSI for divorcing Grissom and Sara, the series' "long ship" known as GSR. Well, you were the voice of reason, saying that you hoped William Petersen would be back for the end. Thankfully, you were right. Although I still think they should not have been separated, the end of the finale was oh so satisfying. Grissom and Sara sailing off into the sunset was a much-welcomed cliché. The finale was good, old-school CSI with lots of throwbacks to the past, and the ending was absolutely beautiful. Nicely done for a show about death. The onscreen magic of Petersen and Jorja Fox will be missed, but the memories now are all good ones. Thanks to the cast and crew, and to Anthony Zuiker, for making it happen. — Jen
Matt Roush: Even if the sailing off into the sunset fadeout was a bit corny, it seemed appropriate, and most important, satisfying to the fans. When wrapping up a show with this much history and baggage, giving the faithful viewer a payoff should be a top priority. (Are you listening, Castle?) If Grissom hadn't come back for the final chapter, it would have been much more disappointing for everyone. So kudos for sure.
---
Limitless Has Its Limits
Question: I just watched this week's episode of Limitless, and honestly am not all that impressed. A show about a drug-taking doofus who's temporarily a genius (with a big secret) really needs to have more going on than the basic premise. Part of what bugs me is the discordantly threatening tone of the "secret injection" part of the story. Plus, dumbness really isn't all that interesting. Have you seen more of this than the first episodes?
So far, Blindspot is the only new show I like enough to definitely keep on with. I'm kind of tired of conspiracy shows, but if they make this one as entertaining as it is visually appealing, I guess I'll keep watching for a while. (And yes, I like the Jane Doe character. Without her, I don't think this would work.) One flaw in the design of the show is the whole-body-tattoo aspect. Yes, it's visually interesting, and a neat puzzle to solve over the season, but part of me still remembers the way Prison Break fizzled after getting off to such a good start. Here's hoping Blindspot has a better plan.
In other, more positive news, I really liked the premiere of Marvel's Agents of S.H.I.E.L.D. The Saturday-morning cartoonish style seems to have been replaced with a glossier/smoother presentation, and I think it's an improvement. (I've been watching this so far mostly as a fan of the Marvel movies, not necessarily because I thought the show was the best thing ever. In my opinion, Coulson's still the best character, but at least now the whole thing seems to be based less on fanboy enthusiasm than it used to be.) — Anna
Matt Roush: I'm with you on Limitless. That was pretty much my takeaway in my initial review as well, and CBS hasn't sent advance episodes beyond that. (Which is not unusual this time of year, especially for brand-new shows.) It's doing better than I might have expected—I didn't find it any more compelling than Fox's DOA Minority Report—but I guess I just don't really get it. However, Blindspot I do get. It doesn't strike me as being quite as riveting as early-days Blacklist—it might help if the characters besides Jane Doe had any dimension—but the show has that same sort of high-concept appeal, though I do agree the tattoo angle is even more preposterous and may have trouble sustaining. For now, given the state of this mediocre-at-best new season, at least Blindspot seems to be hitting the spot. (And I'll take your word on S.H.I.E.L.D., and glad you're enjoying. I never connected with that one, and I'm waiting for the DC Comics-inspired shows to return next week—The Flash, Arrow, iZombie—which is as much as I'll have time for in that arena.)
That's all for now, but we'll pick up the conversation again next week, so keep sharing your thoughts on new and returning series. I can't do this without your participation. Please send questions and comments about TV to [email protected] or shoot me a line on Twitter (@TVGMMattRoush). Or submit your question via the handy form below: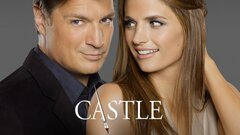 Castle
where to stream