Instagramp: John Stamos Inherits a New Full House on 'Grandfathered'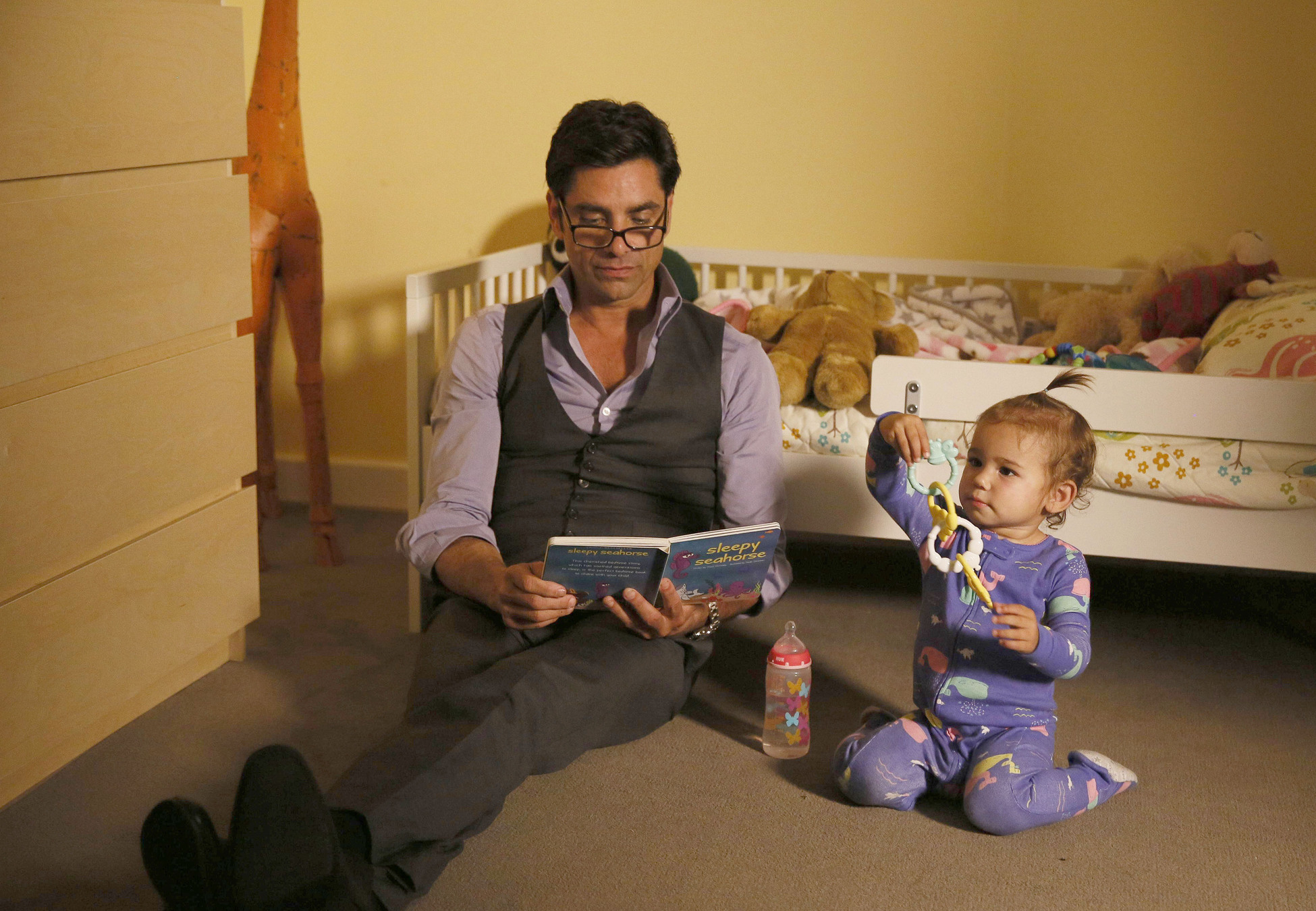 It's party time on the set of Grand­fathered, but the kids aren't all right. Dozens of pint-size extras are supposed to crowd the dance floor of Jimmy's, a swanky, upscale Los Angeles restaurant owned by perpetual bachelor Jimmy Martino (John Stamos) as he throws an impromptu birthday bash for his 2-year-old granddaughter, Edie (played by twins Layla and Emelia Golfieri). Former Bon Jovi guitarist Richie Sambora takes the stage to provide the soundtrack for the celebration, and everything seems to be going off without a hitch until the children scatter at the sight of Stamos attempting to push his way through the tiny dance mob.
RELATED: Stamos Returns With His Trademark Grin
"I'm trying to go through them, but they run when they see me," Stamos explains to creator and executive producer Daniel Chun (The Office). As the cameramen reset, Stamos corrals the kids in the middle of the room, kneels down and flashes his blinding white smile. "Guys, nobody is attacking me," the actor directs them in a friendly, singsong voice. "You've got to karate chop me!"
The children take his advice to heart, and on the next take, they swarm the leading man, hitting and kicking him as he delivers his lines. Suddenly, one overzealous boy latches himself onto Stamos's upper thigh, which elicits a quick-thinking moment of improv from the actor. "Hey, watch the cannolis!" Stamos says with a laugh.
RELATED: 15 Fall Comedies Ready to Make You Laugh
It's been 20 years since Stamos last made family-friendly television magic as the Elvis-obsessed, leather-clad Uncle Jesse Katsopolis on ABC's long-running Full House. This fall, the 52-year-old is hoping to re-create that success with Grandfathered, which finds his perennially single character learning he not only has a grown son named Gerald (Drake & Josh's Josh Peck) but also a granddaughter in little Edie. "This is literally the show I've been waiting 10 years for," says Stamos, who also serves as executive producer. "It's a continuation of what I think I've done well on TV: a show that has heart, is about family and has relatable themes."
[jwplatform MohczQ5Q]
Stamos began his television career in 1982 as troubled musician Blackie Parrish on the ABC soap General Hospital before landing his Full House gig in 1987. After eight seasons on the show that jump-started the TGIF brand, he made the leap to Broadway with runs in revivals of How to Succeed in Business Without Really Trying and Cabaret before returning to the small screen in 2005 for a series-regular role on the final four seasons of NBC's ER. "He's been so famous for so long that he should be a jerk, an animal or a monster," says Criminal Minds vet Paget Brewster, who plays Jimmy's ex-girlfriend and Gerald's mom, Sara. "I was not signing on to do a show with a creep, so I asked everyone I knew who knew him, and they all said, 'That guy is solid.'"
"John is definitely a kid at heart," adds Fox Television Group chairman and CEO Dana Walden. "He has a lot of chemistry with the [twins] on Grandfathered and the relationship that's developing feels very authentic. His kindness can charm a baby."
Well, not always. Even though Stamos is No. 1 on the call sheet, it's apparent his toddler costars rule the Grandfathered set. The Golfieri twins have two miniature director's chairs of their own behind the monitors, and the transportation vans that shuttle the actors back and forth from the stage to their trailers are outfitted with two cushy car seats. And when the cameras roll, the old entertainment-industry adage warning against working with children and animals has never seemed more relevant. Stamos notes that the twins did a lot of "crying and screaming" during the filming of the pilot, especially in an important scene in which Edie plants a kiss on Jimmy after a tough night of babysitting. "[Producers] were like, 'We're just going to change it to where Edie is crying.'" explains Stamos, who worked with the Olsen twins when they were tots on Full House. "And I said, 'No, no, no. The kiss makes it. I'm not going to finish the show until we have this shot. We finally got it in the second-to-last take because they slowly got used to me, but it was a brief moment, because she screamed her head off right after. It might have been my breath, I'm not sure."
RELATED: The 10 Most Promising Shows of 2015
Luckily, the twins are not Stamos's only scene partners. Grandfathered focuses heavily on the father-son relationship between Jimmy and Gerald. Over the course of the first season, Jimmy will take his socially awkward son under his wing to try to up his game with the ladies, particularly former fling and Edie's mom, Vanessa (Christina Milian), who sees Gerald as just a friend now. "He's allowing Gerald to come out of his shell more and not be so awkward or afraid of the world," Peck says. "And Jimmy's starting to appreciate the idea that he has perhaps missed a big part of what life's about, which is family, kids and the joy that comes with them."
Much like Jimmy, Stamos admits he's still searching for a deep, meaningful connection with a significant other. "Something is missing in his life that could be a parallel with mine," says the actor, who was married to Rebecca Romijn for seven years until their divorce in 2004. "When I was a kid, I made a list of all the things I wanted to accomplish, and I've crossed off every one of them 10 times except for having a family. So to explore what that's all about on TV and see if it works—if it does work—I'll do it in real life."
He'll have more than enough to draw on, because when it comes to TV families, Stamos is currently hitting the jackpot twice over. While Grandfathered readies its debut season, Stamos is also hard at work on the Full House reboot for Netflix, titled Fuller House, which is slated to premiere in spring 2016. "There were so many years where I really didn't want to say those two words," Stamos admits. "Not that I didn't love it, but I had to get away from it." It's clear how much he's come around on the idea now, though: He's executive producing the new series and will appear in at least two episodes as Uncle Jesse.
RELATED: 30 Midseason Shows You Should Also Watch
Stamos, who partnered with original Full House creator Jeff Franklin for the reboot, says the new series just "fell into place" over the last year, with the main storyline centered around original daughters D.J. (Candace Cameron Bure) and Stephanie Tanner (Jodie Sweetin). "The first taping was explosive—people just loved it," Stamos says. "I had saved my old wardrobe, so I wore all the leather jackets. It was a bit of a trip."
Stamos also enlisted his Full House cast mate Bob Saget for a cameo appearance in the Grandfathered pilot—as a frustrated diner at Jimmy's restaurant. Other guest stars in the premiere include former NFL star Deion Sanders, comic legend Don Rickles and rapper Lil Wayne, whom Stamos lovingly dubs "the holy trinity" for posing together in Jimmy's epic selfie. Throw in a musical homage from Stamos's other pals the Beach Boys and the Grandfathered pilot boasts a varied cross section of Stamos's real-life influences and friends. "Years ago, you wanted to stay away from everything that was relatable to you, but now it doesn't matter," he says. "There's no pedestal anymore. You can't take yourself too seriously, and that's what this character is. I'm a bit of a fool, so I just play to that."
Grandfathered, Series premiere, Tuesday, Sept. 29, 8/7c, Fox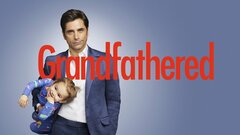 Powered by