Roush Review: Ageless and Still Funny John Stamos Is 'Grandfathered' While Rob Lowe Is 'The Grinder'
As if they'd emerged from some Fountain of Youth, TV stalwarts and '80s icons John Stamos and Rob Lowe make for quite the handsome combo of fiftysomethings in a promising new Fox block of unorthodox family comedies, representing a gender-reversal makeover for what was formerly a female-centric hour of TV. (Reminder: The Mindy Project has relocated to Hulu and New Girl is on the midseason bench.)
Grandfathered: Aww-inspiring
What could be more adorable than a metrosexual narcissist bonding with a baby girl? That's the instantly irresistible and knowingly trite hook of Grandfathered, which presents the former Uncle Jesse still looking good as Jimmy Martino, life of his own bachelor party, a playboy restaurateur whose vanity is seemingly limitless. (And understandable. Just look at him.) So it's quite the slap to his ego when he's suddenly confronted by a grown son he never knew existed: sweet sensitive Gerald (Nickelodeon's Josh Peck, an uncanny casting match), who enters Jimmy's life with a baby daughter, Edie, in tow.
RELATED: First Look Photo: Richie Sambora on Grandfathered
Instant family, overnight grandpa (a word Jimmy can't quite bring himself to pronounce), and the whole set-up might be way too syrupy if it weren't for the show's tart, sardonic writing and Stamos's winning ability to undercut the sentimentality with his self-deprecating glamour. When he goes to Gerald's mom Sara (the always terrific Paget Brewster), otherwise known as The One That Got Away, Jimmy demands to know why she left him out of the loop for so long. Her retort, once she stops being blinded by his beauty: "Have you met you?" She obviously has a point.
And thus an offbeat family unit is formed, as Jimmy takes on responsibility for someone other than himself while serving as a one-man charm school for geeky Gerald, who cries at movies and is desperate to seal the romantic deal with Edie's carefree mom Vanessa (Christina Milian). While at times it feels like we're watching a cute-off between Stamos, little Edie and baby daddy Peck—nothing wrong with that, mind you—Grandfathered has plenty of bite amid the blubber and baby fat.
Grandfathered, premieres Tuesday, Sept. 29, 8/7c, on Fox
---
The Grinder: Laying Down the Law
Scoring points for originality and hilarity, The Grinder is far and away the season's freshest new sitcom, a splendid vehicle for Lowe to strut and emote with a mock drama-king gravitas that is equal parts ham bone and funny bone. So what's with the weird title? (Not to be confused with the sounds-like gay hook-up app.) "The Grinder" is the bombastic title character Dean Sanderson (Lowe) played on TV for many seasons in a cheesy but popular legal drama. Now that the show has been canceled, Dean returns to his Idaho home and family, where his milquetoast younger brother Stewart (Fred Savage) is a real lawyer, though nowhere near as slick as "the Grinder." Cue the sibling squabbling.
RELATED: Rob Lowe and Fred Savage on Their New Show
Making a welcome return in front of the camera after establishing a successful post-Wonder Years career as a TV director, Savage almost steals the show from his matinee-idol co-star, bringing a Newhart-like slow burn to this frustrated mensch who finds himself unhappily and jealously living in his prodigal brother's over-the-top shadow. "I know about the grind," Stewart insists to his wife Debbie (Mary Elizabeth Ellis). "I grind hard!" A line that by itself is worth tuning in for.
"Don't settle! Ever!" was The Grinder's mantra, and much of the wacky humor of The Grinder shows Dean trying to live up to his alter ego's ideal, inserting himself into the family law firm (led by their all-grins dad, William Devane) and turning the courtroom into a cheerful theater of the absurd with sheer bravado. Even the dour judge, unimpressed by Stewart's bumbling style, grows impatient waiting for Dean the Grinder's next reckless entrance.
If the shtick fits, you must acquit—and if The Grinder is guilty of anything, it's killing us with laughter.
The Grinder, premieres Tuesday, Sept. 29, 8:30/7:30c, on Fox
---
Questions? Ask Critic Matt Roush!
TV critic (and occasional TV therapist) Matt Roush answers viewer questions and concerns in his Ask Matt column each week. Wondering about plots, characters and twists on your fave shows? Submit your query to Matt via the form below: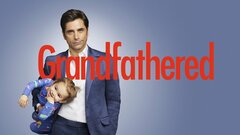 Powered by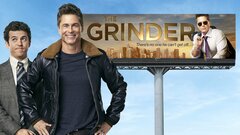 Powered by