Trevor Noah Grabs the Hot Seat: Ready or Not, He's Taking Over 'The Daily Show'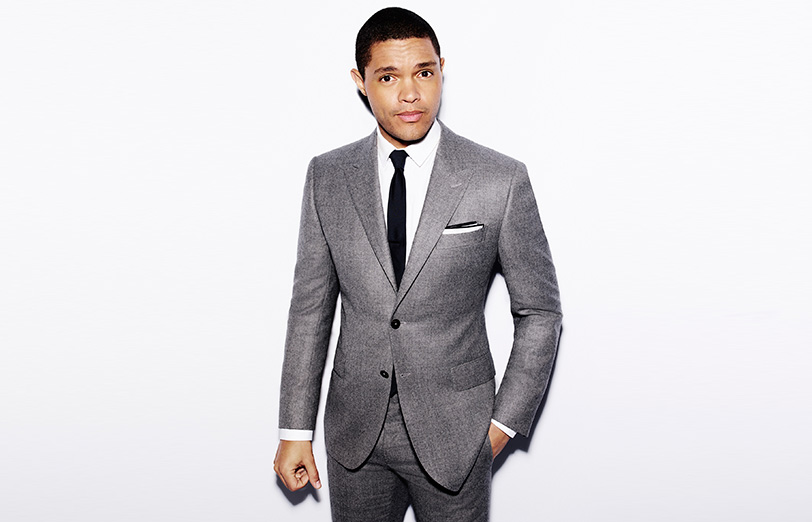 It didn't take long for new Daily Show host Trevor Noah to face some scrutiny. Just a day after being given the job in March, Noah was criticized for a handful of controversial posts he made on Twitter years ago. Noah told reporters this summer that he learned from the firestorm, and he joked that he'll have more than 140 characters to better formulate his thoughts on the new show.
The Daily Show With Trevor Noah launches Monday, September 28, with a new set, new logo and some new correspondents. Comedy Central's programming president, Kent Alterman, calls Noah "the perfect choice to replace Jon Stewart." We spoke with the host about what to expect.
RELATED: Trevor Noah on Expectations, Replacing Jon Stewart and Those Tweets
You've had a few months to prepare for the launch. How's it going?
It's going crazy. Rome wasn't built in a day, and I'm learning that The Daily Show was not built in six weeks. It's a very intense journey but a fun one.
Do you feel ready?
I don't think I'll ever feel ready, to be honest. I think I'll feel most prepared by the time we go on TV. But I've never felt ready when doing stand-up comedy, so I don't think I'll feel ready stepping into the place of Jon Stewart on one of the most prestigious shows.
How are you managing the tightrope walk of refreshing the show but not alienating its fans?
It's a difficult one. I'm asked if the show is changing. There's a middle [ground], a place where some things will change but most things won't change. It's still The Daily Show, we'll still have most of the staff that worked on it, the same executive producers, a lot of the same writing staff and the same vision for the show–which is to react to the news and be a part of the conversation being had about what's happening. But at the same time, we cannot deny the fact that I am not Jon Stewart, in many ways.
How would you describe The Daily Show With Trevor Noah?
One of the biggest things that will change is the perspective. I come at things from a very different lens when I look at the news. But the comedy will still be the comedy, and what we're tackling will remain the same. There will just be a wider scope. There may be a few more international stories, but the way we're tackling the elections will be just as integral as it's always been to the show.
RELATED: Comedy Central Boss Admits Missteps in Trevor Noah Twittergate
Your first real test will be covering the presidential campaign.
The one thing I've learned about American politics and the discussion of the next leader is that it's similar to Christmas decorations in malls: It's never too soon to start. It is a baptism by fire, but at least it's a focused baptism that gives us an idea of what we're going toward. We have direction and a distinct focus. So we get to go straight into it.
American audiences notoriously shy away from international news. Can The Daily Show shine a light on topics that may be underreported elsewhere?
When you come from other countries, the way the media decides to break down its news determines how its viewers are educated. We have control of that on The Daily Show. It's more about just interesting stories from around the world. Increasingly Americans are learning how the fate of other countries become tied to their fates. When a problem is allowed to go uncontained for long enough, that problem invariably will become America's problem, because they're the country that the world looks to. Some of these stories may not seem so on the surface, but they are American stories.
Will media critique still be a part of the show?
Definitely. We're consuming the same news, it's just how we choose to target them may be different. It's not like we'll now be immune to random bouts of stupidity that pop up on cable news. But at the same time, we won't let that govern the direction the show takes.
What kind of guests are you hoping to book?
The great part of late night is connecting with celebrities. But it's also about having voices on the chair that wouldn't normally be there. I have very broad tastes when it comes to movies, music, television, books, theater or even journalists and writers and so on. I hope our lineup of first-week guests will guide people to what we plan to do going forward.
RELATED: Here Are Trevor Noah's First-Week Guests on The Daily Show
How has your relationship with the correspondents changed?
What's great is we were friends before Jon made the announcement. We've grown to know each other even more. We have an opportunity to create something new, and it's more of a team effort in terms of us being peers, as opposed to looking up, as we all did, to Jon Stewart.
The late night landscape is criticized for its lack of diversity, but The Daily Show is fighting that trend with a very diverse on-camera team.
I think it's great when you can tackle issues and speak to what's happening from different perspectives and different voices. I've never been a fan of people preaching down or preaching from a place of privilege. It is great to have people empowered and speaking about issues that they themselves hold dear. Jon started that with the correspondents, having different voices come out to speak on issues.
You have a unique personal story as a 31-year-old biracial man who grew up in South Africa. How does that inform what you do?
One thing many people don't realize is how similar the history of America and South Africa is. The stories of oppression, trying to work through injustice and institutionalized racism, stories of gender equality. I feel like I understand a lot of what goes on in America because we have similar problems back home.
What made you jump up and say, "I can do this"?
I don't think I ever jumped. I very slowly moved forward. It's an extremely daunting position. Probably the most daunting job. I've hosted TV shows before and created shows, but nothing like this. I've never come across a comedy show that holds almost more weight than many political shows, which is a strange place for me to be in. I think my passion for the subject matter is what made me go, "I really want to be a part of this."
What's your message to fans who are resistant to change, that it will be OK?
I cannot tell them that it will be OK. I cannot tell them that things will be the same as they want it to be. What I can tell them is I'll put the same passion into the show as Jon did. I will grow and evolve into a person that I hope they'll love to spend their 11pm with. It's a new beginning. I hope people will watch and decide for themselves. Then we'll go from there. It may not be OK, but then there might be new people who say, "This is my new OK." I hope we get to a point where people are enjoying what we put out every single day.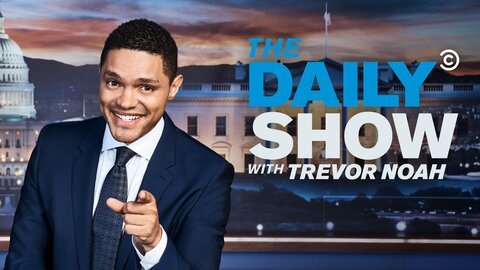 Powered by