Walter Accidentally Reveals "The Kiss" to the 'Scorpion' Team (VIDEO)
https://player.waywire.com/?id=BDXF5R0WTMLWT0H8
In the upcoming Season 2 premiere, the team finds themselves under extra pressure. Not only is the scrappy team under scrutiny from a new Homeland deputy director, played by Forever's Alana de la Garza, but they're tasked with trying to (safely) destroy a satellite that's falling to Earth.
After Sylvester (Ari Stidham) and Happy (Jadyn Wong) can't find a solution to avoid a "nuclear winter," Walter (Elyes Gabel) instructs Paige (Katherine McPhee) to open a coding file on his laptop before realizing, a second too late, that it's a mistake.
RELATED: Scorpion Season 2 Gets Smart About New Missions and Office Romances
Instead of pulling up the file he asked for, Paige accidentally clicks on some jaw-dropping footage from Walter's hospital room—footage he got hold of by hacking the hospital's security system.
"Bet that satellite can't get here fast enough for you, huh, pal?" joked Toby (Eddie Kaye Thomas). Watch the sneak peek video above to see how everyone reacts to the surprising scene.
Scorpion, returns Monday, Sept. 21, 9/8c, FOX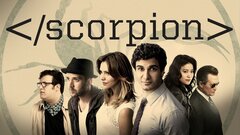 Powered by