'Lucifer' EP Reveals All About Tom Welling's Lieutenant Marcus Pierce
That devil Lucifer (Tom Ellis) may be feeling the heat when Smallville vet Tom Welling joins Season 3 as the one man willing to put his foot down with TV's sexiest hell-raiser. "Tom plays Marcus Pierce, the hard-ass new lieutenant," executive producer Ildy Modrovich explains. "He's very deadpan and very 'seen it all, done it all.'" That won't sit well with loose cannon Luci, especially after his own LAPD partner, Chloe (Lauren German), takes a shine to the new boss. "Pierce is very good at his job, and that draws Chloe to him," adds fellow exec producer Joe Henderson.
Further ruffling Lucifer's feathers is the fact that he has no idea who abducted and abandoned him in the desert at the end of last season—or how he got his wings back. "Episode 1 really digs into the mystery, but that story spans the whole season," teases Modrovich, hinting that a character ominously named the Sinner Man will come along to complicate things.
Lucifer's pals, meanwhile, will have their own complications. With Maze (Lesley-Ann Brandt) off kicking butt as a bounty hunter up in Vancouver, an unlikely alliance brews between her former flame Amenadiel (DB Woodside) and her bestie Linda (Rachael Harris). "When Maze comes home," Modrovich says, "she ain't gonna be happy about that."
Lucifer, Season 3, Oct. 2, 8/7c, Fox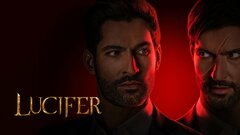 Lucifer
where to stream
Powered by