Comic-Con 2017: Your 'Lucifer' Burning Questions Answered
Lucifer's second season wrapped with a shocker of biblical proportions and a whole bunch of loose ends. So we dragged executive producers Joe Henderson and Ildy Modrovich over the coals to see what they would confess about what's next.
Where the hell is Lucifer (Tom Ellis)? It ain't Heaven! After being knocked out by an unseen assailant, Luci awoke at the end of the season finale surrounded by miles and miles of sand. "It's the desert," Henderson clarifies. "It's beautifully surreal, but it is Earth."
How long has he been gone—and how mad is Chloe (Lauren German) going to be that her homicide case consultant vanished on her again? Apparently, our scorched antihero "has been out in the sun for quite a bit…luckily, his pants survived," jokes Henderson, who adds that the season opener will deal with the fallout of Lucifer's absence and the fact that he can't recall anything from it. "That's the part he's worried about."
So he has no idea how his wings grew back? "That's really the Season 3 mystery, which we dive right into in Episode 301," says Modrovich, while Henderson hints that the twist may ruffle more than Lucifer's previously clipped feathers. "The fun part of the question is, what does that do to him emotionally and mentally?"
"Mum" is gone, but Charlotte (Tricia Helfer) lives? Agreeing that Helfer's "too awesome to let go," the exec producers have plans for the lawyer whose body formerly housed Lucifer's troublemaker mom. "What has [being overtaken by Mum] done to the person who was Charlotte, and who has she become now?" Henderson posits.
Will Dan (Kevin Alejandro) try to romance the real Charlotte? Since she has no idea who he is, the smitten Detective Douche may find a do-over easier said than done, Modrovich teases. "If she's not still attracted to him, who is she attracted to?"
How can Linda (Rachael Harris) continue to deal with these people now that she's lost her therapist license and nearly lost her life? Henderson says "a big part of Season 3" will look at Linda's trauma and her decision "to involve herself with Lucifer and all of these crazy, dysfunctional people in his family." We will also get more of Linda's history in one of the four stand-alone episodes that didn't air last season.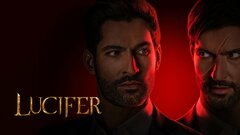 Lucifer
where to stream
Powered by