Randall Park and Constance Wu on 'Fresh Off the Boat's Family Ambitions (VIDEO)
https://player.waywire.com/?id=ZNQ5G61VG6KJNKVC
America's favorite ambitious Fresh Off the Boat family returns for Season 2 this month. Randall Park and Constance Wu, who play parents Hudson and Jessica Huang, sat down to discuss what's coming up for the Huang family business.
When asked how they think the restaurant will take off, Park shared, "Well, it's definitely a success or it's getting there, and we're just going to see the family deal with that next step." But will this mean happiness for the demanding mom? "I don't know what they're going to write for her, but I imagine it's never successful enough," Wu said. "She does not choose happiness on a daily basis."
Of course the show revolves around a family, so do the TV parents and their TV kids get along in real life? "I just love those kids. They're so amazing. On top of being talented, they're real kids," Park revealed. "We are like a little family on set." Wu echos the sentiment, saying, "They're good kids, with big hearts."
Watch the latest video above as Park and Wu share more about the new season and the warm on-set atmosphere.
More Fresh Off the Boat
Questions? Ask Critic Matt Roush!
TV critic (and occasional TV therapist) Matt Roush answers viewer questions and concerns in his Ask Matt column each week. Wondering about plots, characters and twists on Fresh Off the Boat? Submit your query to Matt via the form below: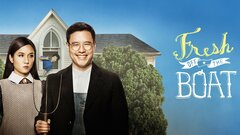 Powered by