Watch My Show: Fresh Off the Boat's Nahnatchka Khan on Pulling Off a Remarkable First Season
Nahnatchka Khan is breaking new ground. Khan is behind ABC's Fresh Off the Boat, the first primetime series about an Asian American family in 20 years. Boat ends its season on Tuesday with plenty of critical acclaim, and something even more valuable: Decent ratings.
Boat has managed to serve as a self-starter for ABC on Tuesday nights. Without any lead-in support, the comedy is holding its own against tough competition (including CBS' NCIS, NBC's The Voice and The CW's The Flash). For the past two weeks, Boat has seen ratings growth in the adults 18-49 demographic—a positive trend as ABC decides in the coming weeks whether to give it a second season (our prediction: A renewal is looking good).
In Tuesday night's episode, "So Chineez," family matriarch Jessica (Constance Wu) insists the family reconnect with its heritage after she fears they've assimilated too much into their new lives in Orlando. That means asking Louis (Randall Park) not join the local country club, and making Eddie (Hudson Yang) do a report on China for his World Day project.
Khan [right] began her career on the animated ABC series Pepper Ann before moving on to more adult fare like Malcolm in the Middle and American Dad. She previously created the ABC series Don't Trust the B—- in Apartment 23.
In a recent edition of the KCRW podcast The Spin-Off, Khan discussed the process of developing the show, which is based on Eddie Huang's memoir Fresh Off the Boat. She also addressed Huang's vocal concerns about the show's depiction of his family, which remains a sticking point for him (if his take via social media is any indication). She also talked about how she looked to create strong, fully realized characters that didn't become caricatures. You can listen to that episode here or via iTunes or Stitcher.
Khan also took time to fill out our showrunner survey to explain why we shouldn't miss this Boat.
I have time to watch one more show. Why should it be yours?
Because you don't have enough Asian kids who are into 90s hip-hop in your life.
Who should be watching?
Everyone who has ever felt like an outsider for any reason and wants to laugh about it.
What happens if we don't watch?
Randall Park will hack your email.
What's the best thing someone has said about your show?
That it's made them feel less alone.
What's the worst thing?
That we don't represent the entire collective Asian American experience.
Who was right?
Happily, both.
What's an alternate title for your show?
The Entire Collective Asian American Experience.
Give us an equation for your show.
Malcolm in the Middle plus Data from The Goonies times every other track from Notorious B.I.G.'s "Ready to Die" album divided by Harold and Kumar minus Kumar.
Come up with a premise for a spin-off.
The Huangs move into a house that is haunted by the ghost of Jessica Lange. It's called Asian American Horror Story.
What credit of yours would you prefer we forget?
A screenplay I wrote called "Garlic Heads", about a group of people who follow garlic festivals across the county. It's unproduced… until… now?
Tell us one thing about your cast.
They are all classically Shakespearean trained.
Tell us one thing we don't know about the real Eddie Huang.
He's classically Shakespearean trained. (But really, if you've read his memoir you know there's nothing I can tell you about him you don't already know.)
On what other series would you like to be an executive producer?
The Vampire Diaries. I would constantly be pitching that we should "take the show back to its core, back to where this all started, back to the diaries."
Let's scare the network. Tell us something that didn't make it to air.
It involves Jessica trying to re-create classic scenes from Crimson Tide.
Finish this sentence: "If you like________, you'll love our show."
If you like enjoying life, you'll love our show.
You told us not to trust the B—- in Apartment 23. Who shouldn't we trust in this show?
The B—- in Apartment 23.
Pick a show and start a fake feud.
The Simpsons. Louis vs. Homer, Jessica vs. Marge, Eddie vs. Bart, Emery vs. Lisa, Evan vs. Maggie, battle royale style.
What other show would you like to do a crossover episode with?
Broad City. Abbi and Ilana would get high and imagine they were twin daughters in the Huang family in 1995. The episode would involve them trying to convince Louis and Jessica to let them get bunkbeds.
How will your show change the face of TV as we know it?
By existing and existing well.
Fresh Off the Boat airs Tuesdays at 8/7c on ABC.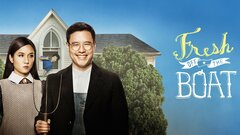 Powered by