Fresh Off the Boat Review: A Sitcom With Promise — If It Can Survive Its Timeslot
Here's the good news: A fresh new sitcom, capitalizing on the hot trend of diversity in prime time, is joining ABC's terrific Wednesday lineup of family comedies, with two episodes airing after established hits The Middle and Modern Family. The bad news: After this week, Fresh Off the Boat moves to the much less hospitable (for ABC comedies) environs of Tuesday night, where it faces CBS's venerable show-killer NCIS and, eventually, NBC's powerhouse The Voice.
Based on the memoir of outspoken celebrity chef Eddie Huang (whose publicity antics might make you wonder if he's trying to kill the show before it begins), Boat deserves a more stable berth as it introduces a Taiwanese-American family relocating in the mid-1990s from urban Washington, D.C. to the unnaturally sunny suburbs of Orlando, Fla. Life is no Disney World for these transplants as they experience culture shock on their cul-de-sac block of gossipy rollerblading housewives, at an elementary school that gives out colorful stickers instead of actual grades, and at the tacky Cattleman's-style restaurant—do not confuse it with Golden Corral! (the bears are an entirely different color)—where the Huangs struggle to make a profit with their all-American dream of assimilation.
At least that's dad's vision, because 11-year-old Eddie—who provides the show's sardonic point of view (with voice-over narration by the grown-up Huang)— would rather be anywhere else. As played with enjoyable swagger by Hudson Yang, Eddie's a wannabe hip-hop gangsta who doesn't quite fit in with the cool kids who mock the exotic food he brings for lunch (it's the age of Lunchables), but won't settle for being a misfit.
With barbed and very broad humor, Boat feels right at home on a network that has found mass appeal in racial inclusiveness, whether in this fall's breakout comedy black-ish or in Shonda Rhimes's groundbreaking color-blind guilty pleasures. This series is often just as brash in its approach, sometimes veering right up to the point of crude caricature as it sends up stereotypes, especially as it contrasts the cheerful disposition of Eddie's optimistic soft touch of a father, Louis (Randall Park), with the hilariously dour discipline of tiger mom Jessica (the formidable Constance Wu). Jessica is suspicious of too much overt happiness; when her three boys bring home Honor Society-level report cards, she responds by home-tutoring them. "School is too easy," she barks, later declaring in disbelief of her new neighborhood, "It's like success is not important to them."
I fear success may be slow in coming to Fresh Off the Boat as it moves to a night where it must sink or swim as a self-starter (a challenge that doomed Selfie last fall). But as acclaimed and thriving new series such as Empire, black-ish and Jane the Virgin have shown this season, the complexion of network television is evolving and expanding, and TV is all the better for it.
Fresh Off the Boat, Previews Wednesday, Feb. 4, 8:30/7:30c and 9:30/8:30c, ABC
("Jake Caputo" could easily be a Sopranos name, so this is doubly appropriate.)
HBO Now is offering a free trial for the month of April, so now's your chance to watch at least the first three episodes of the new season of Game of Thrones and experience all the Paulie Walnuts and Big Pussy you want, cord-cutters.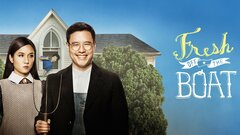 Powered by