How Constance Wu Became Fresh Off the Boat's Breakout Star
"The mom is hilarious!" Most conversations involving Fresh Off the Boat–the new ABC sitcom about a Taiwanese-American family adjusting to life in Orlando during the 1990s–seem to include some variation on that sentiment. Rightfully so: Since debuting in February, the series has become a critical and commercial hit, averaging 7.4 million total viewers with seven days of time-shifted viewing, and Constance Wu, who plays formidable matriarch Jessica, deserves plenty of the credit. And yet, on a recent morning in Los Angeles, you'd never guess there was a breakout star in our midst as Wu arrives at a busy café and weaves her way effortlessly through the crowd. Double takes? Nope. Surreptitious cell phone pics? None. "I've had one girl come up to me at the gym since the premiere," Wu says.
Just to be clear, most folks aren't intentionally denying themselves breathless fan interactions. (Wu's social-media feeds are full of them.) But in person, the 27-year-old–sporting a pair of heart-shaped sunglasses that make her look even younger–is nearly unrecognizable from her stern, late-thirties alter ego. ("Love those mom jeans!" says Wu with a laugh.) The differences extend beyond the surface: Whereas Jessica has a husband, Louis (Randall Park), and three kids, Wu claims a pet rabbit as her only current dependent. "I'm a future crazy rabbit lady," she says proudly.
As it turns out, the startling disparity between Wu and her character almost kept her from landing the role. "I auditioned and didn't get a callback," she says. "They thought I was too young." Eventually, she was brought in for another shot at the part, and now it's tough to imagine anyone else doing it equal justice. (Wu's karaoke skills alone–featured prominently on the show–are a rare treat.) In less capable hands, Jessica–with her quick scowl, strong opinions, and preposterous rules (no air-conditioning allowed…in Orlando?)–could easily have come off as an unsympathetic caricature. Instead, Wu has found her heart. "In many ways, the show is a vehicle for Constance," says celebrity chef and producer Eddie Huang, whose memoir serves as the basis for the series. "My mom is probably the most marketable character, and Constance really harnesses her essence."
Wu works hard at making it look easy. A graduate of the Lee Strasberg Theater & Film Institute in New York City, the bastion of Method acting, Wu flew to Orlando to meet with the real-life Jessica, now in her 60s, and ensure that her portrayal and accent were on point. She's even concocted a fictionalized backstory. "I approach this the same way I would if I were playing Gandalf in The Lord of the Rings," she explains. Or, as Huang sums it up, "Constance takes it seriously."
That seems to be a running theme for Fresh Off the Boat, which, for all its sunny Floridian lightness, bears the weight of being the only Asian-American-driven network vehicle since Margaret Cho's short-lived All-American Girl, in 1994. The fact that it's been able to connect with a broad audience is a sign that Wu and Co. are serving as agents of change, one joke at a time. "I think viewers find it refreshing that we're not doing the same old collegiate humor that's been around for decades," Wu says. "So often when you see diversity on TV, the goal is for people to be like, 'Oh, look! Latinos or Asians are just like us!' What does that even mean? We're letting the Huangs' roots play a huge role. We're telling a specific story."
Of course, being a pioneer has its challenges–and the show has already experienced controversy ignited by Huang's public questioning of his fellow producers' choices. (His essay for New York Magazine on the subject was subtitled "The network tried to turn my memoir into a cornstarch sitcom and me into a mascot for America. I hated that.") When asked for her take on the brouhaha, Wu is quick to defend Huang. "All people wanted to do was dramatize the conflict angle," she says. "But it's not about Eddie hating the show or antagonizing the network. He's pushing to make things better and trying to start a dialogue."
With that, Wu checks the clock and announces that it's time to start wrapping up: She's gotta get her bunny to the vet. A few seconds after she's dashed off to floppier-eared pastures, the fiftysomething man in jean shorts who's been eavesdropping at the next table leans over. "Hey," he says, "was that the girl from that show? American New Girl Family or whatever?" For better or worse, it appears Wu's anonymous streak is about to come to an end.
[jwplatform VuNnFajK]
Fresh Off the Boat, Tuesdays, 8/7c, ABC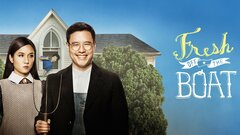 Powered by