'Fear the Walking Dead' Cast Warns the World Will Fall Apart Fast (VIDEO)
https://player.waywire.com/?id=9WCVMC32DG2JSCQL
"Hold on—buckle your seat belts!" warns Kim Dickens (House of Cards), one of the central stars in Fear the Walking Dead, about the new prequel/spin-off. "It's the beginning of the fall of civilization…everything falls apart quickly."
And now that zombies have been relocated from a rural to an urban setting (Los Angeles), expect a "charming, gritty, raw" take on the zombie uprising, says Alycia Debnam-Carey (The 100).
Eight stars from the show's cast boarded the TV Guide Magazine/TV Insider yacht at Comic-Con to discuss what sets their series apart from the original and what other shows Fear should eventually cross over with, including Doctor Who and M.A.S.H., "because we'd have the medical help and we'd have a taxi to get the hell outta there," muses Cliff Curtis (Body of Proof).
Watch the video above to get introduced to the cast.
RELATED: More Comic-Con Features | Video chats with the casts of The Walking Dead, iZombie, Scream Queens and more.
More Fear the Walking Dead Features
Fearful Characters You Should Know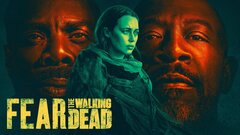 Powered by