'Scream Queens' Stars Agree: Always Say "Yes" to Ryan Murphy (VIDEO)
https://player.waywire.com/?id=MLYLMN28MPN5QK0B
The slasher-satire series Scream Queens (not to be confused with MTV's Scream) makes its debut this fall on Fox. Created by Ryan Murphy (the brains behind Glee and American Horror Story), the much-anticipated show focuses on a series of college campus murders that may be tied to a mysterious incident from the past.
Emma Roberts stars as Chanel, a queen bee sorority president at the center of the show. Joining Roberts are Abigail Breslin (Little Miss Sunshine) and Billie Lourd (Star Wars: The Force Awakens) as fellow Kappa Kappa Tau sorority girls and Chanel #5 and #3, respectively. Rounding out the show are Lea Michele (Glee), Skyler Samuels (The DUFF) and Keke Palmer (Masters of Sex) as sorority pledges caught up in the drama. But the best part of the show? Horror movie alum Jamie Lee Curtis stars as the dean of the university.
Seven of the show's stars boarded the TV Guide Magazine/TV Insider yacht at Comic-Con to talk about why they joined the series ("For whatever Ryan says, the answer is always yes," says Samuels), what they love about it and what other shows would be perfect crossovers (Glee and AHS, natch). Look for pop stars Ariana Grande and Nick Jonas, plus actor Oliver Hudson, to pop up on the show as well.
Watch the video above to learn more about the reigning Queens.
RELATED: More Comic-Con Features | Video chats with the casts of American Horror Story: Hotel, The Vampire Diaries, Teen Wolf and more.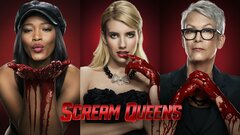 Powered by