'Fear the Walking Dead': A New Zombie Apocalypse Dawns
Welcome to the beginning of the end of the world.
Tucked away within eastern Los Angeles, where the 5 and the 10 freeways merge, is the community of El Sereno. Often overshadowed by the nearby downtown skyscrapers and the glittery star power of Hollywood, it's the oldest neighborhood in the metropolitan area, full of middle-class families and diverse culture. It also happens to be ground zero for the beginning of the zombie apocalypse in Fear the Walking Dead, AMC's highly anticipated new "companion series" (as the network calls it) to The Walking Dead.
But on this particular sunny July afternoon, the screams of terror that one might expect to hear coming from a show like this one are instead replaced by squeals of joy coming from inside a rainbow-colored bounce house inflated on the front lawn of an old single-family home. The streamers, balloons and table piled with presents signal the start of a young child's birthday party, but attendance is alarmingly slim. "We're getting a bunch of cancels because of that bug going around," the hostess explains to neighbors Madison Clark (Kim Dickens) and Travis Manawa (Cliff Curtis), who notice another perspiring pale-faced neighbor struggling to pack up his car between coughing fits. "Slowly, civilization starts to fall apart before our very eyes in our very own neighborhood," Dickens explains between takes. "And when bad things happen, they happen pretty quickly."
RELATED: Get to Know the Fear the Walking Dead Cast | Watch the Fear the Walking Dead Trailer
Fear the Walking Dead goes back in time to explore the early days of the zombie outbreak through the lens of a new urban setting and a fresh cast of characters. "Since the beginning of The Walking Dead, the question that I've been asked the most is 'What's happening in the rest of the world?'" says AMC president and general manager Charlie Collier. "Now, we're about to see a totally different story, and yet, at its core, this is a character drama just like the first one. These are real people who are going to be pressed in real ways, and then the world starts to turn."
Robert Kirkman, cocreator of the Walking Dead comic book and TV series, teamed with executive producer Dave Erickson (Sons of Anarchy) for the six-episode first season, which will begin to fill in the blanks during the five-week period that original series protagonist Rick Grimes (Andrew Lincoln) was in his coma. The duo set out to tell the story of a blended family led by Madison, a widowed high school guidance counselor struggling to raise her drug-addicted son, Nick (Frank Dillane), and ambitious teen daughter, Alicia (Alycia Debnam-Carey). Madison finds strength and companionship in fiancé Travis, an English teacher who has his own strained relationships with ex-wife Liza (Elizabeth Rodriguez) and son Chris (Lorenzo James Henrie). "We start off with a slow burn in our first few episodes because we had the opportunity to explore the dysfunction that comes with family," Erickson says. "We also wanted to have characters who were completely ill-equipped for the apocalypse."
Even as domestic drama heightens, the producers thought it paramount to ensure that the central bond between Madison and Travis was strong. "They are the love of each other's life," Curtis says. "Madison is in some ways more of a pragmatist, while Travis is more of an idealist, and who they become through the sequence of events throws up some very big challenges in their relationship."
In addition to introducing new characters, the producers wanted to move the action away from the Georgia backwoods of the original series and explore the disintegration of a major American city. They settled on Los Angeles because it syncs up with the show's theme of shifting identity and reinvention. "Los Angeles specifically is a place where you go to reinvent and cast aside your old self to become someone new," Erickson says. Just don't look for any shots of the Hollywood sign or Walk of Fame. "You won't be seeing any L.A. landmarks during the course of the show," he says. "But the ocean is important. There's something interesting about having your back literally at the edge of the continent during the apocalypse."
The diversity of the city also allows viewers to follow families with different perspectives, like the Salazars, whose barber patriarch, Daniel (Ruben Blades), immigrated to the United States from El Salvador to provide a fresh start for his family, including daughter Ofelia (Mercedes Mason), who has very much embraced American culture. "This young woman sees herself as her parents' protector and guide through the world," Erickson says of the clan, who will be introduced in the second episode, airing August 30. "The relationship between father and daughter is going to become quite important [in terms of] coming to understand the human side of your parents."
While the writers of the show have plenty of human stories to mine, the undead will still take center stage. Producers tapped The Walking Dead special effects makeup supervisor Greg Nicotero once again to perfect the visual aesthetic of the freshly turned zombies, which the Fear characters refer to as the "infected" rather than "walkers," as they are called on the original series. The cast also had to get used to acting opposite their bloodied and rotted costars. "It was really horrible," says Dillane, who shot his first scene with a young woman (Lexi Johnson) made up as a flesh-eating zombie. "I remember her turning to me and being in horrible, horrible shock. It's not like anything anyone's ever seen before, so I found it really difficult to work alongside."
Although Fear's timeline sets it at the beginning of the apocalypse, Erickson says the exact cause of the outbreak or the pursuit of a cure will not be addressed. Also, the families will have to catch up to what the audience already knows, such as learning how to handle the infected, including avoiding bites and scratches and discovering whether or not the humanity of the zombies can be preserved even as their bodies deteriorate. "We have our characters confronting friends, colleagues, family members—people whom the day before they'd be getting coffee with and now, for whatever reason, this person is trying to tear their throats out," Erickson says. "I think the first instinct for most people wouldn't be to kill but either run or find some way to help these folks, assuming they're sick. There is an emotional toll and psychological trauma that goes with that."
Back on the show's El Sereno set, the sun is setting as Debnam-Carey prepares to shoot her inaugural encounter with one of the "infected," and her excitement is palpable. "This is a fun day for me because it's my first zombie experience!" she says with a laugh. "A lot of scenes are so hard to navigate because you don't know how your character is supposed to react. There are no rules."
[jwplatform AttqrsJB]
Well, maybe one: Don't expect a crossover with Rick, Daryl, Michonne or other characters from The Walking Dead mothership any time soon. "You'd love to find a way to conflate those two narratives at some point, but obviously there will be issues of geography and timeline, so there are no plans to do so right now," confirms Erickson, who points out that Fear's first season will take place over the course of just three weeks. Still, the actors can't help themselves from planning their own dream cameo situations. "I think Madison and Rick would get along, since he is my favorite," Dickens says. Adds Debnam-Carey: "I've thought about how Alicia and Maggie [Lauren Cohan] would be a great team."
The cast has also thought about the immense pressure and expectations to follow TV's second most watched scripted drama (after NCIS.) "It's pretty daunting because you really want to please this loyal and amazing fan base," Dickens says.
This will be AMC's second gamble at franchise expansion this year, after the successful launch of Breaking Bad prequel Better Call Saul. "It is a fool's errand to predict numbers," says Collier, who has already renewed Fear for a 15-episode second season. "I hope people come into Fear expecting it to be its own thing as opposed to comparing it to The Walking Dead."
And new viewers won't need prior knowledge of the original series. "If you're one of the seven people in the world who have never seen The Walking Dead, you can come into this show fresh," Erickson promises. "It's just another badass story that lives in this larger world that Robert created." Clearly, as all hell prepares to break loose in the City of Angels, the only thing left to fear is Fear itself.
Fear the Walking Dead, Series premiere, Sunday, August 23, 9/8c, AMC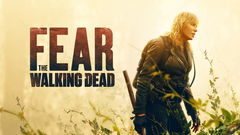 Powered by