How the Cast of 'Doctor Who' Survives Comic-Con (VIDEO)
Xw2Hk5iQ
The cast of Doctor Who loves meeting the throngs of fans at San Diego Comic-Con, but the long weekend of crowds, interviews and spectacle isn't for the faint of heart. So when we got Peter Capaldi (The Doctor), Jenna Coleman (Clara) and Michelle Gomez (Missy) to take a break with us on the TV Guide Magazine/TV Insider yacht, we had to ask: what's in their Comic-Con survival kit?
"Each other!" declared Capaldi, with Gomez agreeing: "We are each other's life raft." Coleman, however, was quick to note the real key to making it through Comic-Con: "Michelle has snacks."
Find out what else they had to say about entertaining fans and binge-watching television in the video above.
MORE: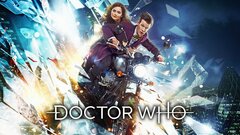 Powered by