Everything You Need to Know About 'Younger' Before Season 4 Premieres
Before TV's trendiest show returns June 28, we're presenting fans with a refresher course on all things Younger. Season 3 of the TV Land hit premiered way back in September and was a cocktail of pop-culture references, glamorous book parties, and Liza's (Sutton Foster) constant struggle to keep her secret: She's not a twentysomething millennial, but is actually a 40-year-old divorcee.
Watching Liza attempt to navigate her Hannah Montana-esque double life as the season progressed was undoubtedly a fun treat for viewers, but everyone knows the rule of secrets—they demand to be revealed. Something had to give, and the Season 3 finale provided us with a bombshell cliffhanger.
Kelsey Finds Out
Liza's carefully crafted facade was frequently in danger of crumbling, but she kept getting saved by various deus ex machinas. In the end, she decided to come clean to BFF Kelsey (Hilary Duff) on her own. Kelsey was, predictably, shocked and confused. "I don't understand," she said in bewilderment. "Then let me explain," Liza replied, capping off the season finale, leaving fans antsy to view the fallout. And there is guaranteed to be consequences, because let's face it, Kelsey can be petty. As Kelsey seeks revenge, look out for friction between the usually amicable duo in the upcoming season.
Launching "Millennial"
Kelsey and Liza have moved up in the publishing world as they worked to promote their new imprint, Millennial. Audiences watched the young entrepreneurs attempt to corral authors, compete with rival editors, and visit book fairs. They made plenty of rookie mistakes as well, but with Kelsey at the helm and Liza right beside her, they managed to keep their imprint afloat. Of course, now that Kelsey has learned of Liza's true age, it's not just their friendship in jeopardy next season, but their professional relationship as well. Because a middle-aged woman running an imprint called Millennial isn't exactly great for optics.
Love Triangle
Every show nowadays seems to feature this plot device, pitting two men against each other as they vie for our heroine's attention. Liza was caught between beau Josh (Nico Tortorella) and boss Charles (Peter Hermann) the entire season (I'm not even counting ex-husband David, which would technically bump this to a love square). It all came to a head when Josh caught Liza and Charles in an intimate moment before he was about to propose. Needless to say, it did not end well. When Liza tried to beg for forgiveness, Josh was just not having it. "You're a liar. And a cheater," he stoically informed her. "And whether you realize it or not, your lies are hurting everyone around you." These harsh words bring us to the inescapable truth, setting the tone for the next season. Liza did a bad thing, and it's time to pay the piper.
Liza Faces the Music
What started out as an innocuous fib to secure a job has spun into a massive web of lies, ensnaring all of Liza's loved ones. She may have not aimed to hurt anyone, but she invariably did. Because Liza is such an exceedingly likable character, viewers can sometimes forget that this kind of explosive secret is pretty damaging. Liza's lies are finally starting to catch up to her, and next season she will surely be getting her just desserts. With no boyfriend, and no best friend, she's about to enter a dark place. It's only a matter of time before everyone else finds out. Which kinds of leads us to wonder—where will the show go from there?
Honorable mention:
Liza's blunt boss, marketing exec Diana Trout (Miriam Shor), scores points for the biggest character development this season. She learned to let loose, took some risks, adopted a pet parrot, entered into a serious relationship, and even—gasp!—wore jeans to work. They were probably designer, but still.
Younger Season 4, Wednesdays at 10/9c beginning June 28 on TV Land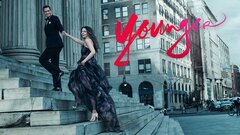 Younger
where to stream
Powered by