'Younger''s Sutton Foster on Playing TV's Most Adorable Con Artist
Age is just a number. Well, except when you're lying your ass off and pretending you're 15 years younger than you really are. Sutton Foster is back with her fabulously fizzy comedy series Younger, in which she plays 40-year-old divorcée Liza Miller, who is masquerading as a Millennial so she can work in the youth-centric world of Manhattan publishing. The two-time Tony winner gives us a preview of the deceit to come.
You're heading into Season 3. Are you surprised Liza is still able to pull off this crazy ruse?
Yes! She's woven herself into a huge web of lies but, just when you think she's about to get busted, [creator] Darren Star and the writers come up with brilliant ways to buy her time. In fact, so much about Liza's big lie is going so well right now that she's really liking it. She wants it all. She's a selfish character when you get right down to it.
So selfish that you worry about staying on the audience's good side?
I'm always worried about Liza being likable and find it amazing that people root for her. I've worried since Day 1. At first it was, "Will the audience really embrace a woman who is living a lie?" Now it's, "How far can we push that lie?" But Liza's intentions are honorable. She doesn't want to hurt anybody. She's not stabbing anyone or blowing up buildings. This show is escapist fantasy, and it has a heart of gold.
And you're in grand company. I Love Lucy, the greatest comedy show ever, was built on lies. Mrs. Ricardo was always trying to be something she wasn't, and we forgave her every time.
Because we all have that same fantasy. We all chose Door A and, at some point in life, we wonder how things would have turned out if we'd chosen Door B. That's Liza.
RELATED: Miriam Shor is Stealing Scenes as Younger's Insecure Boss From Hell
In last season's finale, Liza reunited with her young, hot but flaky ex-lover Josh (Nico Tortorella) and kissed her menschy, age-appropriate boss, Charles (Peter Hermann). Isn't Charles the better bet here? Is Liza truly torn?
Yes, Liza is really torn between those two delightful boys. And so am I! Both are right for her and they're also not right. A combination of the two would be perfect. This season, my character will be forced to answer a lot of adult questions, like "Is there really a future with Josh?" and "Does she really love this guy?" She never went into any of this to find herself a man. Sure, this is all very exciting and sexy and dangerous for Liza but it's also a distraction. She took on this lie to reclaim her career and her independence. So maybe she doesn't choose anybody. [Laughs] Wouldn't that be radical?
Josh already knows Liza's true age and it's inevitable that more characters will learn her secret. What then? Do you still have a show?
I hope so. I actually think we do! Yes, her lie was the initial conceit of the series but there are many episodes where Liza's age isn't a big factor or it doesn't even come up at all. Our show is more about the characters and their relationships. The female friendships are particularly fantastic—a true example of women supporting women. Among the many things I love about this show is how it changes perceptions. It has certainly changed my view of the world! We all come with these misguided or downright ignorant ideas about people who are older than us or younger than us, and being on this show has obliterated all that for me. My character bridges two generations and each is of equal merit. Each is learning a lot from the other. No one is, like, "You're young and you don't know anything about the world yet," or "You're old and you have no clue." Everyone is valued for what they bring to the table and that's an incredible message to put out there. This show is about so much more than a lie. So, yeah, I can actually see a world where everybody knows Liza's secret and that needn't be the end of Younger. In fact, it could be a launching pad for many more seasons to come!
Younger, Season premiere, Wednesday, Sept 28, 10/9c, TV Land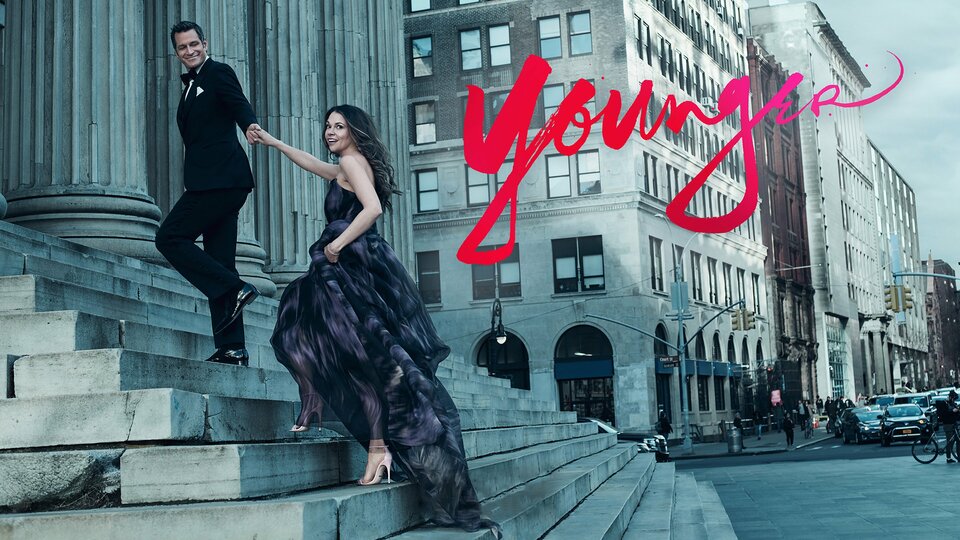 Younger
where to stream
Powered by