A 'Supergirl' 'Crisis' to Die For?
Those crafty kids behind Supergirl sure are having some fun with Superman's two-part appearance!
As they did with last year's crossover guest spot by The Flash, the CW has recreated an iconic DC Comics cover to tout this week's episode, "The Last Children of Krypton," which features the second half of Tyler Hoechlin's stint as the best Man of Steel we could have ever hoped for.
RELATED: Supergirl: Superman and Other Kryptonians Visit National City in Season 2
Cradling his seemingly lifeless cousin Kara (Melissa Benoist) and looking skyward with a bright light glowing behind him, Hoechlin's Kal-El is just a smidge less forlorn than the weeping version drawn on the "double-size shocker!" cover of 1985's Crisis on Infinite Earths #7. In the 12-part comic-book series, our heroine was killed off while battling the Anti-Monitor alongside a huge team of DC Universe heroes (including Barry Allen's incarnation of The Flash) and pretty much stayed dead until various versions were introduced years later as Supergirls with no relation to Superman or Krypton. Clearly that is not the case with this evening's hour, but you can tell from the shot that something serious is about to go down in National City.
Of course, there are countless other DC characters set to turn up this season and those behind the scenes are having a blast bringing them to the small screen. "That's the fun part," says executive producer Ali Adler. "At the beginning of the season it's like, 'If in our dreams we could have whomever" and DC is being so generous [with allowing us]…they're fulfilling our dreams!"
Ours too, girl.
Supergirl airs Mondays at 8/7c on The CW.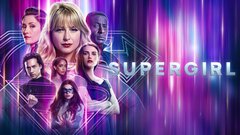 Powered by