'Supergirl': Superman and Other Kryptonians Visit National City in Season 2
For Supergirl's second season, Melissa Benoist's delightful superhero soars from CBS to The CW and straight into a family reunion with the one and only Superman (Teen Wolf's Tyler Hoechlin), previously only referenced on screen."We had to tell the story of Kara's very famous cousin," says executive producer Ali Adler, adding that the move to "a true home on The CW" means the freedom to "dig in deeper…to explore more of the personal lives of our characters."
RELATED: Supergirl Nabs a Teen Wolf for Superman!
To that end, fans can expect a bold career move for Kara's CatCo pal Winn (Jeremy Jordan) and a possible shift for her sister, Alex (Chyler Leigh), at the Department of Extra-Normal Operations, as well as more on the romantic front for Kara and James (Mehcad Brooks)—and, of course, the sure-to-be-complicated reconnection of the last remaining children of Krypton. "This is more about two cousins than Superman [teaming up with] Supergirl," Adler teases of the "really emotional" reason for Kal-El's two-episode flyby. "It's not just to save the world."
And Supes isn't the only DC Universe character on tap. Containment's Chris Wood is playing Mon-El, the Superboy-ish alien aboard the pod that crashed to Earth in April's finale; Cougar Town's Ian Gomez has signed on as Snapper Carr, the CatCo editor-in-chief hired by Cat Grant (Calista Flockhart, who's only making occasional visits now that production has moved from Los Angeles to Vancouver); Dreamgirls' Sharon Leal will appear as Miss Martian, another survivor from the doomed world of Hank Henshaw, aka Martian Manhunter (David Harewood); and Floriana Lima of The Family has joined the team as Maggie Sawyer, a detective from both Batman's and Superman's books. In addition, we'll meet Lex Luthor's sister, Lena (Katie McGrath), and see the return of The Flash's Barry Allen (Grant Gustin) in a musical episode.
RELATED: Calista Flockhart is Returning to Supergirl!
But by far the coolest DC-related casting comes in the form of former Wonder Woman Lynda Carter, who is set to appear in a recurring role as the president of the United States. "I certainly grew up with Wonder Woman and she was a huge idol of mine," Adler says. "It's really exciting to see her with my other idol, Melissa Benoist."
Supergirl, Season Premiere, Monday, October 10, 8/7c, The CW.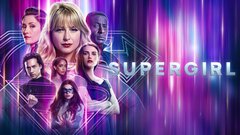 Powered by