'Lucifer' Has a Mother of a Problem (VIDEO)
Forget wire hangers, it's gonna be "No more whips and chains!" when Lucifer's Mommy Fearest (Tricia Helfer) comes gorgeous face-to-face with Mazikeen (Lesley-Ann Brandt), her former torturer in Hell.
Having escaped her eternal imprisonment, the problematic celestial being who gave us Luci (Tom Ellis) and Amenadial (D.B. Woodside) showed up at the end of Season 2's opener a tad tattered yet still stunning in her newly assumed human form.
RELATED: Lucifer's Tom Ellis on the Dark One's Mother Invading L.A. and More
From the looks of this exclusive clip from tonight's episode, Mom is still not used to being Earth-bound or, for that matter, unchained around her son's sinister sidekick. As much as we love the idea of Helfer and Brandt locking horns, it may not be in Lucifer's best interest to leave these two fierce femmes alone for too long just yet.
So what do you think? Can Mom forgive Mazikeen for simply performing the hell out of her job down in Hades? Or should Lux's sexiest staffer start watching her back?
Lucifer airs Mondays at 9/8c on Fox.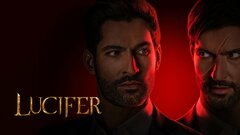 Lucifer
where to stream
Powered by