'The Flash': How Everyone's Lives Change in Flashpoint Arc
Time flies when you've rewritten history. Season 3 of The Flash kicks off with a mini-arc inspired by the DC Comics Flashpoint series, which finds Barry (Grant Gustin) three months into a new normal. In May's season finale, our hero secretly raced back in time to save his late mother, Nora (Michelle Harrison), from the Reverse-Flash and therefore altered his own timeline. Now, "he is the only one who is aware of [the changes]," explains executive producer Aaron Helbing.
RELATED: The Flash: Deleted Scene from Season 2 Opener Explains Barry's Finale Move
And since Barry's father, Henry (John Wesley Shipp), was never killed by Zoom in this reality, the young man has a very different relationship with Joe (Jesse L. Martin), who, in the original timeline, had become his surrogate dad following Henry's wrongful imprisonment for Nora's murder. "Barry and Joe still work together at the Central City PD, but they're not close because Barry never went to live with the Wests," adds Helbing's brother, and fellow exec producer, Todd. That also means Barry no longer has an almost-romantic connection to Joe's daughter, Iris (Candice Patton). #SorryShippers.
To make matters even trickier, there's a new CSI on the scene (Tom Felton, best known as Harry Potter's Draco Malfoy) who seems a little too curious about his colleague's extracurricular activities.
Barry's erstwhile S.T.A.R. Labs allies have also gone in new trajectories post-Flashpoint. Tech geek Cisco (Carlos Valdes) has created an app that's made him the richest man in the world, while Caitlin (Danielle Panabaker) is involved in a mysterious scientific situation. "She's a doctor, let's leave it at that," Todd says mysteriously.
RELATED: The Flash: 8 Burning Questions for Season 3
Central City won't be lacking for speedster heroes, as Joe's recently discovered biological son, Wally (Keiynan Lonsdale), has adopted the costumed persona of Kid Flash. "Even though Barry changed history," Aaron continues, "they still live in a world where there are meta-humans—heroes and villains."
How long this twisted It's a Wonderful Life plotline will last is as hush-hush as when Earth-2's Harrison Wells (Tom Cavanagh) and daughter Jesse (Violett Beane) will reappear, but with DC Comics baddies Mirror Master, Godspeed, Savitar and Dr. Alchemy (voiced by Saw's Tobin Bell) all lined up to cause trouble this season (even as the producers promise a "lighter" tone), we're betting Barry will live up to his nickname and get things fixed in a flash.
The Flash, Season premiere, Tuesday, Oct. 4, 8/7c, The CW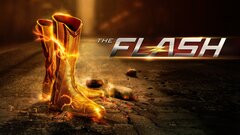 Powered by