'The Flash's Man in the Mask Speaks!
Warning: This story includes spoilers from the second-season finale of The Flash.
After half a season of wondering who Zoom (Teddy Sears) had locked away in that cell on The Flash, it was revealed at the end of Tuesday's finale that the man in the iron mask was none other than the real Jay Garrick. And not only that, Earth-3's fleet-footed hero looks exactly like Barry's late dad, Henry Allen! We're still wrapping our head around this one, so thankfully John Wesley Shipp was ready to talk about his (brief) return to the show, suiting up as another speedster and (because we're shameless) playing another hot dad.
When did you find out about all of this?
First of all, I knew that Henry was coming back for an arc of four episodes, and we began filming them in the beginning of March. I began to hear rumors about costume fittings for, oh, I don't know, prison uniforms that were in shreds. I thought, "Hmm, Henry Allen's prison uniform wasn't in shreds, so what could this be?" Then something was said about an iron mask, and then I had a conversation with [executive producer] Greg Berlanti—who of course you know I've known ever since Dawson's Creek—and he laid out the whole story for me. I was like, "Wow, you guys are so brilliant." [It's] a brilliant channeling of fan expectations through storytelling. This is the role the fans wanted me to play at the beginning!
Exactly!
Everyone said, "You should've been Jay Garrick." But I really wanted to play Henry Allen. It's amazing that it comes full circle this way.
It's kind of amazing that this wasn't spoiled.
I have to give [CW publicist] Suzanne Gomez and [Warner Bros. publicist] Ben Brown a lot of credit. When they announced that I was going to be on the show initially, they didn't say what character I was going to be playing. I went up and filmed my part in the pilot and it didn't get out. Nothing gets out. I don't know what they do. I don't know if they're threatening people's lives. [Laughs]
Did you talk to Greg Berlanti about the fact that this is now the second time he has given you the role of a dad we love and then killed him?
He is very aware of that! Listen, early on when I was cast as Barry's dad, there were tweets saying, "All right, Greg, don't go near the ice cream. I don't want to see an ice cream cone anywhere near Henry Allen!" Yes, absolutely, it's like the best dad in the world died.
You realize Mitch Leary was a total sex symbol, too, right?
Was he really?
Oh, my God, yes. He may have been TV's first DILF.
[Laughs] Can I put that on my resume?
Definitely. Have they given you an idea as to whether or not we'll see this new Jay Garrick going forward?
Yes, they have. They've spun out a very interesting [idea]. Because everything is very fluid, they build the universe and then sort of extract the storyline from the universe that they build in their wonderful imagination. They've built in a universe in which this new Jay Garrick has a very prominent place going forward. Of course, I can't say what those ideas are, but it's mind-blowing to me, really, to find myself 25 years later in this situation with this franchise.
You are, once again, The Flash!
I've always said that my career has been alternating between superheroes and psychopaths. A really good guy on Guiding Light. A psycho on As the World Turns. A woman abuser on Santa Barbara. A superhero the first time on The Flash. A drug-addicted cop on NYPD Blue. The world's best dad on Dawson's, then the world's worst dad on Teen Wolf. It's just amazing. I've been really fortunate to be able to go back and forth.
Jay's costume in this finale is so similar to your original Flash outfit. I heard that the actual plan was to put you in that old costume.
Well, thank God that did not happen! [Laughs] If it had, I might've bailed. Listen, in a quarter of a century, there have been marked improvements. Taking nothing away from that original suit, but it was all designed more for appearance than functionality, and, oh my God…
It was foam rubber, wasn't it?
It was foam latex and blocks of red material and sprayed with a sealant, because I was sweating through it. Now one of the major improvements is they actually have an under-suit, which they can wash and I have to tell you, both for myself and for my fellow actors, that's a big plus! [Laughs]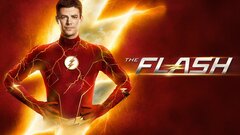 Powered by