'Scream Queens' Lea Michele: 'A Lot of People Are Getting Killed Off' in Season 2
Lea Michele knows how to keep a killer secret, especially having been the biggest one during Scream Queens' first season. "Thank God I didn't know I was the killer last year," confesses the actress, who didn't learn that her oddball sorority sister Hester Ulrich was behind the Red Devil murders until the end of shooting. "If I had known early on, I would have just had to lock myself up in the house!"
RELATED: Taylor Lautner Joins Fox's Scream Queens
Once again, pretty much everything is being kept top secret when it comes to Queens. We do know that Season 2 has jumped ahead three years and the murderous action has moved from Wallace University to a hospital purchased by Wallace's former dean, Cathy Munsch (Jamie Lee Curtis).
As for the surviving Chanels (Emma Roberts, Billie Lourd and Abigail Breslin), the Kappa Kappa Tau sisters—last seen being sent to an asylum for the murders Hester committed with her late brother, Boone (Nick Jonas), and the nutso who raised them (Nasim Pedrad)—are indeed working in some capacity at the hospital.
Hester is apparently not on the payroll—or even the premises. "I am somewhere else," Michele offers cryptically. "And it does not seem as if Hester is contributing to the [new rash of] killings. She's hopefully, in some ways, grown."
RELATED: New Comedy Pilot for Scream Queens' Nasim Pedrad Focuses on a Middle Eastern Family
How much growth she's experienced will become evident once the bodies start piling up and Munsch and Co. begin to wonder why they once again have attracted a maniac. "They come to me for counsel," jokes Michele, who says her list of potential suspects includes new cast members John Stamos (enigmatic surgeon Brock Holt) and Taylor Lautner (deeply disturbed Dr. Cassidy Cascade).
"Straight out of the gate, I was really going for Stamos. But every episode you're like, 'Wait a minute. Is it Jamie Lee? Is it Taylor? Is it Chanel No. 5?' You always get thrown off." That said, it sounds like fans will have an easier time figuring out who is behind the bloodshed based on who doesn't make it out of each hour alive. "A lot of people are getting killed off," Michele promises. "They are not messing around this season."
Scream Queens, Season Premiere, Tuesday, September 20, 9/8c.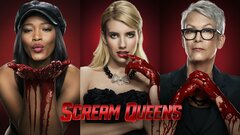 Powered by