Taylor Lautner Joins Fox's 'Scream Queens'
Team Jacob might've lost the battle for Bella's heart, but they've scored a big win here: Taylor Lautner is joining the cast of Fox's Scream Queens, Deadline reports.
This season, the Ryan Murphy series is set at a hospital where Lautner will be playing a doctor with a strange medical condition (perhaps he is phasing into a werewolf?), who becomes a suspect in tragedies at the hospital (again, sounds like the work of a werewolf, is there a full moon?).
RELATED: Fox Announces Fall Premiere Dates: Gotham Kicks Off Premiere Week
And Lautner has his choice of ladies to imprint on, if his love interest's daughter isn't readily available again: Emma Roberts, Lea Michele, Abigail Breslin, Keke Palmer, Niecy Nash and Jamie Lee Curtis are all set to return for the second season, as are Glen Powell, and other new cast member John Stamos.
RELATED: New Comedy Pilot for Scream Queens' Nasim Pedrad Focuses on a Middle Eastern Family
Lautner recently put his comedy chops to work on Adam Sandler's The Ridiculous Six, and appeared on Cuckoo.
The show returns for a second season (after a very low-rated first) on September 20. Perhaps the new casting will bring more eyeballs to this show. Or at least people who are on Team Jacob will watch.
Scream Queens, Season Premiere, Tuesday, September 20, 9/8c.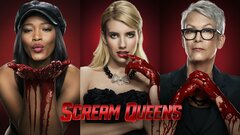 Powered by