'Doc McStuffins': First Look At Molly Ringwald's Guest Spot As An 'Emergency Medical Toy'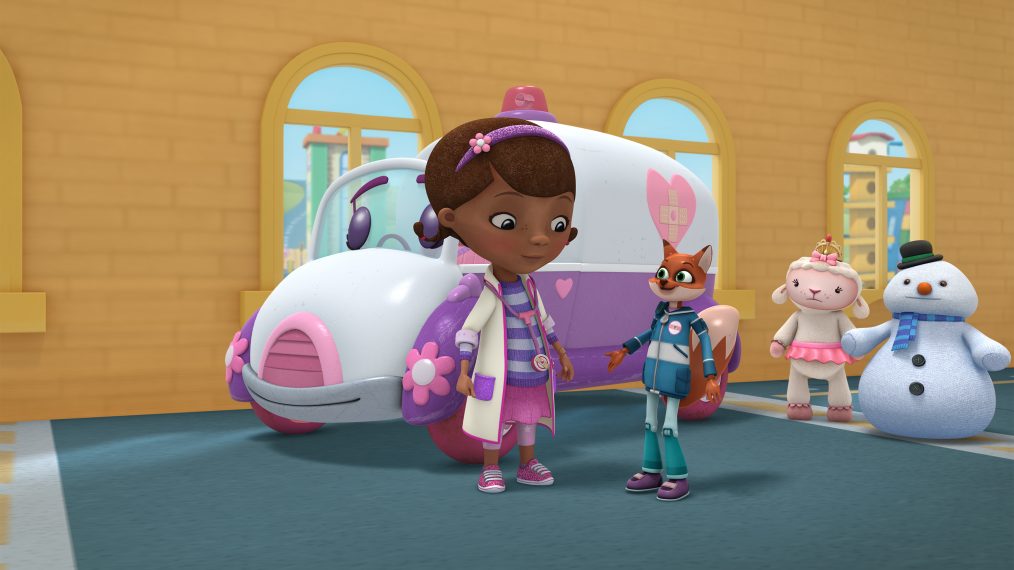 Season 4 of Disney Junior's hit Doc McStuffins finds its heroine, Dottie McStuffins (Doc to her toys, who come to life and help her diagnose broken toys that come to her for help), as the Chief Resident of McStuffins Toy Hospital in the town of McStuffinville. It's allowed her to meet and care for a bigger range of toys than she encountered at her backyard clinic, including Darla, voiced by Raising Expectations star (and '80s Brat Pack icon) Molly Ringwald.
RELATED: Oh, Grandma! Doc McStuffins Kicks Off Season 4 With a Family Secret (VIDEO)
Darla is an "Emergency Medical Toy," or EMT for short, who helps Stuffy (Robbie Rist), Doc's trusty toy dragon, after he gets hurt in a jousting accident. An exclusive look at Ringwald's character is in the picture above; Darla's in the center, talking to Doc (Kiara Muhammad) while Lambie (Lara Jill Miller) and Chilly (Jess Harnell) stand by. The episode debuts on Friday, August 19, at 9:30am/8:30c.
RELATED: Disney Junior's Doc McStuffins Brings Big Ideas (Adoption! Transfusions!) to Little Viewers (VIDEO)
The new toy hospital setting ties into a new Doc McStuffins immersive, bilingual exhibit, which debuted on August 6 at the Children's Museum of Indianapolis. In the featurette below, show creator Chris Nee and others talk about the exhibit, which lets kids use Doc's instruments and even lets them don her lab coat, among other interactive features.
After the exhibit's run in Indianapolis ends on January 20, it will tour the country at least into 2019, hitting the following destinations:
Family Museum, Bettendorf - Iowa, Spring 2017
Discovery Cube OC, Santa Ana - California, Summer 2017
Discovery Cube LA, Los Angeles - (Sylmar) California, Fall 2017
Reading Public Museum, Reading - Pennsylvania, Spring 2018
Children's Discovery Museum, San Jose - California, Summer 2018
Liberty Science Center, Jersey City - New Jersey, Fall 2018
Strong Museum, Rochester - New York, Spring 2019
Imagine It CM, Atlanta - Georgia, Summer 2019
Doc McStuffins, Friday, August 19, 9:30am/8:30c, Disney Junior.