Disney Junior's 'Doc McStuffins' Brings Big Ideas (Adoption! Transfusions!) to Little Viewers (VIDEO)
Disney Junior is celebrating its fifth anniversary by pushing the envelope—in the cutest way possible—with its Peabody Award–winning series Doc McStuffins. On Friday, March 4, the preschool hit kicks off a monthlong arc about adoption, tackling topics from the practical, like how to burp a baby and change messy diapers, to the emotional insecurities siblings may face when a new child joins the family. The first episode of the arc is paired with a story about transfusions and the importance of being a donor—even though the network's target audience, kids age 2 to 7, are years away from legally participating in a donor program.
"Our viewers are like little sponges," says Nancy Kanter, executive vice president of original programming. "It's our responsibility to introduce them to worthy ideas, even fearful concepts, that prepare them for life in a way that's safe and comfortable. The parents trust us, and that's given us an opportunity to tackle tougher and trickier issues."
It helps that much of the drama is done via toy stories. Doc, a little girl who dreams of a career in medicine, runs a clinic in her playhouse for stuffed animals and other toys. "By letting Doc's toys come to life and focusing on their various maladies, we're one step removed from reality," says creator Chris Nee. "It helps kids deal with their fear of going to the doctor."
When Mr. and Mrs. McStuffins give their adopted baby a special toy, Doc's stuffed lamb, Lambie, worries there are more toys coming and that she's being pushed to the side. "Our message," says Nee, "is that parents have all the love in the world and that there's plenty to go around." The adoption plot will further expand the family with the introduction of Grandma McStuffin, voiced by Grammy winning singer and actress Dawnn Lewis (A Different World).
In the transfusion story, which gently deals with the concept of blood types, a neighbor kid's toy rabbit loses some of its stuffing—the kind only Doc's snowman, Chilly, possesses. At first Chilly is scared and reluctant to donate his stuffing but eventually understands the importance and urgency of the situation. Cue the happy ending.
But sometimes, sadly, there's no fast fix. "Next season, we'll look at kids who can't be cured or cured quickly, without it becoming scary, of course," Nee says. "We want our show to speak to every child out there."
And every parent, as well. Shortly after the transfusion episode was completed, Nee's wife, Lisa, was diagnosed with a rare bone marrow disorder. "For over two months, she had to have a transfusion every two days, frankly to survive," Nee says. "I was very aware, sitting with her in that hospital room, that while I am a person who believes in donations and have given blood, I do not donate often enough. We can all do more than we do in this world. Kids need to know that there are people out there who are relying on the generosity of others to make it through. Moms and dads could use a reminder, too."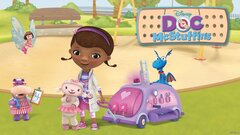 Powered by