'Darcey & Stacey' Season Finale: Boats, Battles & Finally, Bliss (RECAP)
Trouble in Paradise
Season 1 • Episode 10
[Warning: The below contains MAJOR spoilers for Season 1, Episode 10 of Darcey & Stacey.]
Babies, honeymoons, and weddings make this finale a must-see. After a tumultuous season, finally it seems the Silva sisters are happily in sync.
R.I. Calling
Stacey and Florian pack for their "mini honeymoon" in Rhode Island. Of course, she hasn't forgotten that he admitted to kissing Shanti. "I've cried all the tears I can cry, so I'm ready to move forward from this," Stacey tells the camera. "We just want to move on from this and enjoy our marriage from here on out."
Darcey and Stacey used to go to Rhode Island beaches as children, so it was the best oceanfront option for their honeymoon during COVID-19. Florian reapplies Stacey's lip gloss on the drive there and teases that he has some champagne surprises in store for his new bride.
Fanning the Flames
Darcey and Georgi also plan on meeting Stacey and Florian in Rhode Island. "Ready for some romance in another state," Darcey laughs. However, the couple have hit a rough patch of their own. She questioned a comment on one of Georgi's Instagram photos; apparently an ex posted a fire emoji, and he admits to speaking with his former girlfriend about a year ago. Darcey now is worried that Georgi was not exclusively talking to her when they connected a year prior.
Women are texting Georgi during the car ride to Rhode Island, and Darcey inquires if he has dated any of them. "I'm an attractive guy, many girls like me. I don't know, the attention. I don't know why you're so obsessed about that," he responds.
"I'm just curious about your past because we've got a connection. You met my family, you're a part of my world now, and I just don't want any surprises later," Darcey explains. She asks whether Georgi told these women that she is his girlfriend, but he doesn't answer.
Baby, We've Arrived
Stacey pulls up to the large rental house, and Florian carries her over the threshold. Darcey and Georgi arrive soon thereafter, bearing gifts. The two couples toast to Florian and Stacey's marriage before Georgi starts cooking dinner.
"I would love for Darcey and Georgi's relationship to work out," Stacey says to the camera as Florian and Georgi laugh about chicken bones in the kitchen. Georgi calls Darcey his "queen" and laments about missing his Bulgarian hometown. There is some obvious tension between them, and Stacey asks what's wrong.
"Social media can affect relationships," Darcey says to her sister at the dinner table. "It affected yours!"
Darcey can't shake the feeling that Georgi might be speaking to other women online. In a confessional, she opens up about her trust issues. "I know he's different than Tom and Jesse, but I expected more out of him," she states.
Georgi stands his ground, pointing to the fact that he didn't acknowledge the fire emoji. Yet Darcey looked up the ex and said that she has a new baby. Stacey flat out asks if that's Georgi's child. He throws up his hands and starts laughing, saying that he did not sleep with this woman in the last seven years. Darcey is making no sense; need we forget that Georgi is married? So how many women is Darcey accusing him of sleeping with?
"I don't know how this came into Darcey's head that I have a baby. Just because this girl leaves fire emoji on my page, she was dealing with a**holes in the past that lied to her, but acting this way is overreacting for no reason," Georgi says in a confessional.
"I just feel like I don't know enough about him. Baby or no baby, I just need to get to the bottom of things," Darcey screams before heading inside the house. Stacey leaves to comfort a sobbing Darcey, while Georgi worries that Darcey's paranoia is creating more conflict.
"It's killing me because I love her," he tells the camera.
Second Thoughts
The next day, everyone plans on heading to the beach, but it's clear Darcey is still upset from the night before.
Darcey and Georgi lay out on the sand as Stacey and Florian play in the water. Georgi excuses himself to go on a walk to clear his head. "Our night didn't end well. We didn't sleep together and we don't feel close to each other anymore," he contextualizes to the camera. "I don't know how to feel. I totally didn't expect our trip to turn out this way."
Florian follows Georgi and checks in with him. Georgi explains that he loves Darcey but finds the perpetual arguing to be "annoying." Florian tells Georgi to be patient and separately says that he feels bad for Georgi.
Georgi asks if proposing to Darcey would inspire more trust in their relationship. Florian agrees, but Georgi needs more time to decide what to do.
Boats and B**ches
Darcey and Georgi charter a boat to have some romantic one-on-one time. "I feel like a weight's been lifted off me," she says in a confessional. The boat setting is reminiscent of their first date in Miami. "I can't deny the fact that I care for him and love him, but I just don't want to get hurt. I'm scared."
Darcey cheers to their future, and Georgi hopes for better times together. He asks if she needs more time before fully committing to their relationship. "Honestly months ago, I never thought that I'd be over here with you," Georgi tries to be sweet.
"Well I wouldn't have expected you to think that because you're still married," Darcey slams back, ruining whatever attempt at a romantic moment. "You're the one who wants a divorce so figure it out….I'm too old to have to worry about other b**ches." She proposes a break, not knowing that Georgi was looking to actually propose.
"If you want me to trust you, show me," she pushes. Georgi tries to get Darcey back into the moment, but she is looking for a more firm answer. So he just pulls out a ring!
"What about this?" he asks a shocked Darcey. "I don't care about the past. I care only about the future, about us, and I want to talk about the future and I want to be with you. Are you going to marry me?"
Hand in Hand, Forever
Darcey tears up and pulls her hand away as Georgi tries to put the engagement ring on her finger. Instead, she lifts his hand over her heart. "You truly feel that way, don't you?" she cries. And then she says yes. WHAT?! Darcey is engaged?!
"It's not a promise ring, it's not a stupid key, but all that was to get me to where I am today with the man that I love and I truly deserve," Darcey says in a confessional, citing both Jesse and Tom as stepping stones on her way to happiness. The happy couple kiss on the boat at sunset.
Twin Weddings
Darcey can't well to tell Stacey that she got engaged during Stacey's "mini-moon."
"Literally our lives have changed in a heartbeat on that boat, and it's going to be a memory of a lifetime," Darcey starts. She flashes her ring, and Stacey gushes that she's so happy for her twin sister.
"The fact that after all that, Georgi still proposed shows that he loves my sister," Stacey cries to the camera. "He's not going to give up on her, and that's what makes me so happy. She deserves it." The twins burst into songs with "I do's" and "walking down the aisle in style."
"Twin wedding baby, you never know!" Darcey cheers.
And that's a wrap on the first season of Darcey & Stacey. From cheating allegations to a wedding and an engagement, we can't wait to see what happens next for the Silva sisters. Perhaps that move to L.A. will finally happen after all…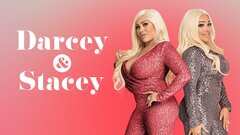 Powered by