'Darcey & Stacey': 'What the Hell Just Happened in Quarantine?!' (RECAP)
Ultimate Betrayal
Season 1 • Episode 8
[Warning: The below contains MAJOR spoilers for Season 1, Episode 8 of Darcey & Stacey.]
Darcey sums it up best as she reveals a secret about Georgi, and Stacey is confronted by new footage of Florian's possible infidelity a few days after getting married. What the hell, indeed.
Divorce Drama
After quarantining with Georgi for a few weeks, Darcey discovers that Georgi is still married, although obviously separated. Through an emotional frown, she opens up to the producers in hopes of fully understanding the situation. She has mixed feelings about the fact that he is going through a divorce.
"I have been married for three years," Georgi tells the camera with Darcey by his side. "My soon to be ex-wife, we met at a modeling event four years ago. We liked each other, we dated for maybe six, seven months before I proposed. The beginning was great. [Now] we get to a point where we can't stand each other…We separated more than a year ago."
Georgi filed for divorce before meeting Darcey, and he says that he told her he was still married when they first met in Miami during the Super Bowl. Of course Darcey has a different story. "I don't believe he told me in Miami. I don't remember that, to be honest with you," she separately tells the producers. "There were drinks involved."
Georgi maintains that he was planning on being fully divorced within 21 days, but when the pandemic hit, it stalled everything. Darcey, who has also been through a divorce herself, tries to tell Georgi that divorces are never easy…especially since he doesn't have a lawyer.
Kids First
Darcey and Georgi go for a hike. The couple have a heart-to-heart in the middle of it. She explains to him that she's most worried about her daughters getting too attached to him now that she knows he's still married.
"It's my kids that matter the most," Darcey explains through tears. "I've had two really s**tty relationships, and they were hurt by seeing what they saw with that. I just don't want them to be like, 'Mom, wow, this is maybe even worse.'"
Georgi comforts Darcey, and the two decide to move forward.
Drive Thru Marriage
Stacey and Florian go for a drive thru breakfast. She tells the camera that she wants to tell her family about her wedding face-to-face but expects Darcey to be really hurt.
The Truth Comes Out
Georgi and Darcey drive to meet up with Florian and Stacey for a picnic. This will be the first time that Stacey meets Georgi, and Darcey is planning on telling her that Georgi is married. Georgi is slightly worried: "Two Darceys may be too much for me!"
Florian is less enthused. "Darcey likes to show off. I don't f**king care," he states in a confessional. Florian and Darcey awkwardly hug upon arrival.
The two couples discuss how they stay fit during quarantine (it involves sex), and there definitely is an underlying competition over which Silva sister is more in love. Darcey prompts Georgi to admit that he's in the process of getting divorced in front of Florian and Stacey.
"Why put yourself in this situation and live with somebody and rush a relationship when they're technically still married?" Stacey says to the camera. Georgi explains that his wife is still in Maryland and they haven't talked in over a year.
Stacey checks in with Darcey about where her head's at after this news. "In a weird way, I do feel a bit judged [by Stacey]," Darcey explains in a confessional.
And then Stacey takes center stage. "You're not the only one married!" she laughs to Georgi.
Darcey is speechless. "What the hell just happened in quarantine? I'm literally down the hall from her. Why didn't she call anybody?" she vents to the camera.
"It was like my own Cinderella moment. It was crazy," Stacey smiles. She explains that she didn't "need the negative feedback" from Darcey, and that is partially why she didn't invite her.
Darcey of course brings up the videos of Florian, but Stacey repeats that she believes him over Shanti.
One on One
Darcey pulls Stacey aside to tell her about speaking with Shanti. Stacey starts to hyperventilate as Darcey shows her the private footage. "What the f**k?!" Stacey says.
"She's faking sex noises. They're trying to mock sex, Stacey," Darcey explains. "She's trying to do a porno."
"I think I'm going to throw up," Stacey sighs through tears. "We're married now….I wish I would have known about this sooner."
"He should have told you all of this before he said 'I do.' He knew this," Darcey comforts Stacey in a confessional.
Even if Florian never slept with Shanti, the videos are still damning. "He should be ashamed of himself," Darcey sums up.
The twins return to the picnic, with Florian and Georgi waiting. Stacey doesn't waste time and announces that she just saw something "disgusting." Florian doesn't seem to have any idea what she's talking about. Stacey leaves the park without him.
Producers ask Florian what is going on, and as Florian tries to take off his microphone, he explains a little. "Darcey was waiting for this day," he theorizes.
In a surprise turn, Georgi stops his car to console Florian. "Even though I don't know him that well, I feel bad for him," Georgi tells the camera. The two men sit side by side and discuss the situation. Darcey believes Georgi's reaction shows that he's really there for her and her family.
"I Deserve Better"
Back at the apartment, Florian spends the night alone. He repeats that there is nothing between him and Shanti.
Stacey lies in bed at her dad's house. "I feel like I've been hit by a truck. I deserve better, and I just feel like a part of me is missing right now," she muses. "How could he do this to me?"
Previews
Next week, Darcey introduces Georgi to her family and friends, while Stacey confronts Florian in hopes for answers. "I don't think I can be married to someone that lies to me," she cries to the camera. Later it seems Florian finally admits to having an affair, and our hearts break for Stacey who is blindsided.
Until next time!
Darcey & Stacey, Sundays, 10/9c, TLC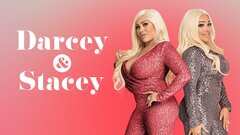 Powered by