'This Is Us': Kevin Mourns & Opens a New Chapter in 'A Hell of a Week: Part Two' (RECAP)
[Warning: The below contains MAJOR spoilers for Season 4, Episode 12, of This Is Us, "A Hell of a Week: Part Two."]
The second part of the Season 4 This Is Us trilogy has finally arrived, and while it raises some questions, there were also a few answers [Spoiler] like who's in bed with Kevin (Justin Hartley), which was teased last week in Randall's (Sterling K. Brown) episode.
Focusing on Kevin in this installment, "A Hell of a Week: Part Two" features his own trials and tribulations, although it has nothing to do with a home invader, and nearly everything to do with Sophie (Alexandra Breckenridge). His childhood sweetheart returns for a moving hour of TV and we're breaking it all down below, but beware of major spoilers.
Looking in All the Wrong Places
Like the episode prior, the past serves as a framing device for the story as Jack (Milo Ventimiglia) continues to wrangle up his little tykes one-by-one. Last week it was Randall, and this week it's little Kevin who can't settle down. When Jack asks why, Kevin tells him he wants sheep, referring to a mobile that used to be over his crib.
Looking around and finding nothing, Jack is forced to wake a sleepy and sick Rebecca (Mandy Moore) to ask where the hanging toy is. When she tells him it's gone, Jack has to think quickly and comes up with an alternative way of comforting his son. Essentially, the idea is that Kevin's looking for something he thinks he needs, but there's another thing to serve the same purpose right in front of him. This concept carries through to his present day storyline of looking for love and stability, but not necessarily in the right places.
This timeline ends with young Kate waking up and finding Jack, which implies what's to come in the third installment, which will focus on the third member of the Big 3.
Memories Good and Bad
Throughout the episode, which focuses on Kevin and Sophie's relationship, plots from the past are peppered in. One of the timelines includes the night where Kevin (Logan Shroyer) learns Jack has died, while the other parallels the evening of Rebecca's impending birthday dinner.
In the timeline recounting the night of Jack's death, Kevin visits Sophie (Amanda Leighton) at her house, where her mother Claire (Jennifer Westfeldt) dotes over him. When she notes that he'll do great things in life despite not being able to play football anymore, the affection in his eyes suggests a kindred bond between the two. In an effort to forget the fight he had with his dad on Super Bowl night, he and Sophie attend the party in the woods, but when it's too boring, they ditch for the movies, where they decide to see Good Will Hunting.
Just as the film is nearing its end, the screen goes black after a technical difficulty, so they leave the theater and go back to the woods, never knowing the film's end. The situation leads to a long-term inside joke in which they come up with various endings for the film and vow never to watch it because Good Will Hunting's ending could never live up to the greatness of the film's beginning that they saw.
The timeline is ultimately a reminder of Kevin's worst night as it ends with him being approached by Kate (Hannah Zeile), who delivers the devastating news. Kevin uses the memory to remind Sophie in the present that not all things from the past are easy, but we can overcome.
Meanwhile, in the timeline where they're newlyweds, we revisit the new Pearson home, where Kevin asks Rebecca if she saw his first soap TV gig. But she didn't, and the situation is juxtaposed with when he and Sophie visit Claire, who praises Kevin and gushes about seeing him on TV. When they decide to eat dinner, Claire gives a toast with prosecco, and Fresca reveals she's bought tickets for her and Sophie to take a trip, but Sophie gets upset since the money was saved up to fix pipes in the house.
Storming off, Kevin takes the opportunity to ask Claire for Sophie's grandmother's ring because he'd like to give it to her. When they take a seat together, Claire illustrates the importance of the family heirloom, and then denies him the ring, saying that his and Sophie's marriage is too young. But she professes her faith in Kevin's promising future, and tells him great things are to come. She tells him to never settle, and it's a sentiment that resurfaces in the future.
Eventually, the past timeline ends with Rebecca revealing her birthday dinner is canceled, because something's wrong with Kate. Apparently, she had a fight with Rebecca before leaving for the cabin with Marc (Austin Abrams) but called her mom crying later on. Rebecca tells Kevin she thinks Kate's in trouble, and that's when he rings up Randall.
Making Peace with the Past
Things in the present pick up where they left off as Kevin continues reshoots on his M. Night Shyamalan movie. As he talks to the director (who returns as a guest star), his phone rings again and again with Sophie's caller ID. When the PA he handed his phone to walks over, Kevin sees that it's urgent, and he calls her back, only to learn about the passing of her mother.
He can hear the pain in her voice, and he offers his condolences, before adding, "I've got one for you, are you ready?" When she says yes, he offers, "He starts a cider brewing company and he calls it, 'How Do You Like Them Apples?" While odd when first stated, the reveal that it's part of their Good Will Hunting inside joke gives it some clarity.
After hanging up, Kevin decides to attend the funeral and flies out to Pennsylvania. When he arrives, he recalls memories from the past of Sophie and himself. Upon arriving, he gets the call we saw before from Randall when he reveals the news about the break-in. Next we see him at the funeral, where Sophie talks about her mother and a coffee shop they enjoyed going to when she moved to New York. She tells attendees that's where she was when she learned about her mother's passing, and for that reason she'll never go back.
Once the ceremony is finished, Kevin picks up some donuts from a shop they used to go together as kids and arrives at the reception, but he calls Sophie before approaching the door. When she says it's better if he doesn't come in, she grabs her coat and asks him to get her out of there. The pair drive off, and he comforts Sophie, who talks about almost losing it at the funeral.
He asks if he can drive her somewhere and she agrees. When he comes to a stop in the woods, he points out that they're in the same spot as when they learned about Jack's death. He tells her he used to be afraid of the place, and while it still haunts him, he's not scared anymore. He then tells her she'll go back to that coffee shop one day, the one in New York, and the pair share a quiet moment together.
Eventually, they bring up Good Will Hunting, and when they learn they've each still never seen the ending, they watch it. The moment serves as a bit of an ending to their own story as Kevin leaves her at the curb of the house where they first began their meeting. Before she lets him drive off, she tells him to wait, and she returns with an old headshot of Kevin's. The photo is signed and addressed to Claire, who Sophie says was Kevin's biggest fan. The former loves part with tears and understanding.
After this reveal, Kevin goes to the cemetery to bid Claire farewell, thanking her for believing in him and talking candidly about her refusing to give him the family ring for Sophie. He believes she knew he'd mess up, and says he understands, he does all this with Fresca and prosecco (that he doesn't drink) to honor his former in-law. Meanwhile, Sophie finds the ring Kevin wanted to give her stored away in her mother's belongings, finally in her possession. When Kevin's on his way home, he calls Kate (Chrissy Metz), telling her he's coming to see baby Jack.
When he arrives at Kate's door, though, it's Madison (Caitlin Thompson) who answers, and she tells him she's dog-sitting as Kate and Jack are away at a retreat while Toby (Chris Sullivan) is at work. When he looks disappointed, she invites him in for tea, to which he agrees. Chatting, he learns that she's recently been dumped, and when she wonders aloud what she's done wrong, Kevin commends her for being someone who stays in a relationship when he's unable to commit to most partnerships he's had.
We can assume you know where this is going, but it doesn't take long for it to be revealed that the woman in bed with Kevin is in fact Madison. While we don't see much interaction between the pair, we end the episode with Randall's phone call to Kevin where he's panicking in the bathroom. When Kevin suggests taking a trip to the family cabin as a means of relaxation, Kevin connects Kate into the call and learns her marriage is on the brink of breaking when they invite her.
Could the impending sibling drama take place at that fated Pearson abode? Fans will have to wait until February 11 to find out.
This Is Us, Returns Tuesday, February 11, 9/8c, NBC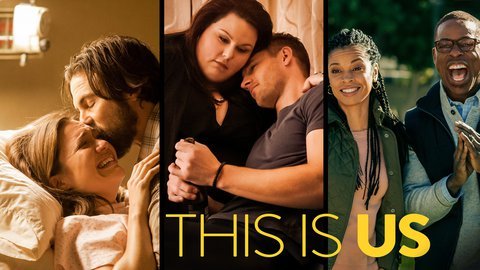 Powered by