Bryan Cranston & Aaron Paul Unveil New Partnership for 'Dos Hombres'
UPDATED (7/9/2019):
All has been revealed when it comes to Bryan Cranston and Aaron Paul's cryptic social media posts, and no, it's not linked to the upcoming Breaking Bad movie.
The actors shared a joint statement through their social media profiles along with various images revealing a joint venture in artesanal Mezcal. While the news may be less exciting than info about the film, some parts of the announcement do provide hope for fans wishing to see the actors reunite onscreen. Below, see their statement about Dos Hombres — their own Mezcal brand which is available for purchase as doshombres.com.
"Three years ago we sat in a sushi bar in New York. Talking about life and what we could possibly do down the road together. We had the time of our lives while shooting Breaking Bad and truly built a very special bond. Knowing that we couldn't share the screen for quite a while — our thoughts turned to a new project. We sipped cocktails and thought about what it should be. The younger one looked at his drink and said, you know what we should do? We should do a really special Mezcal. The older one said, you mean the liquor with a worm at the bottom? Nah, that was just some bullshit gimmick, I mean real, artesanal Mezcal made by hand in Mexico."
"After that dinner we couldn't get the idea out of our heads. So, we started traveling to Oaxaca to see if we could find it, and we mean it had to be "it," something so damn good even people who don't think they like Mezcal will love it. It had to be perfect or we weren't going to do it. We searched high and low all over Oaxaca, met incredible people along the way and after a beautiful yet grueling search throughout that majestic landscape we believed we may have found our place. Our Mezcal.
View this post on Instagram
"It was on a dirt-road, in a tiny village, hours away from the center of town, we found it and it was perfect. Holy sh*t it was perfect. We looked at each other and just simply nodded. This is it. We named it Dos Hombres — two guys on a quest. It's been a long and crazy journey and we couldn't be happier to share this with you and the rest of the world. We are crazy about the taste, the aroma, and the versatility of this smokey, age-old alcohol. Try it, and let us know what you think. We are certain you will love it. Well, that's our story. What's yours? Go to doshombres.com to get a bottle of your own. Follow us at @Doshombres and @Mezcal to hear more about Mezcal and Dos Hombres. — AP & BC"
So while they may not be cooking up onscreen magic as Walter White and Jesse Pinkman right now, Cranston and Paul were cooking something else we're sure will sell just as well as Blue Sky.
UPDATED (7/8/2019):
Today Bryan Cranston and Aaron Paul continued their cryptic social media campaign by sharing two different photos with the same caption.
The images depict the actors and former Breaking Bad stars taking a sip of some drink from a coconut shell. "A collaboration so smooth you can taste it. 🥃 24 hours people!," they both wrote alongside the photos.
They shared the messages on Twitter and Instagram at 9:53 am PT/12:53 pm ET which means that some news is coming soon. Stay tuned for whatever announcement they're teasing by checking back here.
UPDATED (7/3/2019):
It seems like Bryan Cranston and Aaron Paul are dropping more cryptic hints about a "soon"-to-be-revealed project from what is presumably the Breaking Bad universe.
Similar to identical social media posts on June 25, the actors shared the same image of themselves together with a caption echoing the previous donkey-centric post. "Even Sooner," this image of the actors was captioned.
View this post on Instagram
Both Cranston and Paul posted the photo at a similar time of day as their previous message within a couple minutes of 10 a.m. PT. The photo sees them crossing a shallow waterway in a desert-like surrounding. Despite the promising image, it's still uncertain if the message is in relation to the highly-anticipated Breaking Bad movie or a potential cameo in the upcoming season of Better Call Saul.
Either way, the messages are only ramping up fan excitement, so hopefully their "even sooner" statement holds some truth.
ORIGINAL STORY (6/25/2019):
After years of rumors, it was revealed late last year that a Breaking Bad movie is in the works. And now, some online activity from the show's stars is leaving fans curious.
On Tuesday, June 25, Bryan Cranston and Aaron Paul shared the same image with the same caption on their Twitter accounts. "Soon," both stars simply wrote alongside a photo of two donkeys with a black-and-white filter.
While the move could be seen as a way to provoke fans, there is an interesting detail the posts share that may not be obvious right away — both posts went up at exactly the same time: 10:02 a.m. PT. Could this be a hint of things to come in the highly-anticipated flick? The desert setting certainly bodes well for hopeful fans, but it isn't entirely a confirmation.
Paul, who played Walter White's (Bryan Cranston) former high school student-turned-meth-making partner Jesse Pinkman, has confirmed that he will reprise his role, but could Cranston also return? The actor has expressed interest in coming back if asked by creator Vince Gilligan.
"I would, I would absolutely," he said of returning. "If Vince Gilligan asked me to do it, sure absolutely, yeah, he's a genius, and it's a great story, and there's a lot of people that felt that they wanted to see some kind of completion to some of these storylines that were left open.
"And this idea from what I'm told gets into those [storylines] — at least a couple of the characters who were not completed as far as their journey," Cranston continued.
The timing of the tweets could imply a number of things. They could be teasing a possible San Diego Comic-Con 2019 appearance, something specific about the Breaking Bad movie, or potentially a stint on Bad's prequel spinoff Better Call Saul, currently in production on Season 5.
Let us know what you think about the matching messages in the comments below and stay tuned for details about the Breaking Bad movie as more details become available.
Breaking Bad, Streaming now, Netflix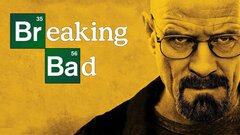 Powered by