Will Walter White Appear in the 'Breaking Bad' Movie?
Just days after it was revealed that a Breaking Bad movie was in the works with creator Vince Gilligan at the helm, series star Bryan Cranston weighed in on the project.
From 2008 to 2013, Cranston appeared on the AMC series as antihero Walter White, who transformed from straight-laced high school chemistry teacher to a full-on drug lord in the series. The cast and crew recently celebrated the show's 10th anniversary at San Diego Comic-Con where they reminisced about the good old days.
In a radio interview with the Dan Patrick Show, the Cranston addressed the movie announcement, remaining coy on the subject. "Yes, there appears to be a movie version of Breaking Bad, but I honestly have not even read the script," he said.
Without having seen or read the script, Cranston continued, "So there's question of whether or not we would even see Walter White in this movie." As upsetting as the notion may be to fans, they should know that the actor isn't against reprising his role in the addictive series' universe.
"I would, I would absolutely. If Vince Gilligan asked me to do it, sure absolutely, yeah, he's a genius, and it's a great story, and there's a lot of people that felt that they wanted to see some kind of completion to some of these storylines that were left open," Cranston said. "And this idea from what I'm told gets into those [storylines] — at least a couple of the characters who were not completed as far as their journey."
Of course, the last time fans saw Walter White he was looking pretty lifeless on the lab floor of the neo-Nazis' compound. But it was neither confirmed nor denied that the protagonist met his end in "Felina," so the possibilities for a return still remain.
"Yes, I know of it, but I honestly haven't read yet," he reiterated about the script before thinking aloud about how Walt would appear be it flashbacks or actual present-day scenes. "I have no clue but I'm excited about it because it's Breaking Bad, and it was, you know, the greatest professional period of my life and I can't wait to see all of those people again, even if I just come by to visit."
And while Cranston may be unsure about his return, he's up to the task, revealing that if he were to don Walt's famous Heisenberg black hat, shave his head, and peer through his glasses once more, the transition would come naturally.
So while fans remain in limbo they can take Cranston's words as they are. Listen to everything he had to say in the video below: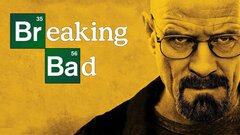 Powered by