'YOU' Finale: Who Lived, Who Was Arrested & That Surprise Return
[Spoiler warning: This post contains spoilers from the Season 1 finale of YOU.]
If you thought YOU pushed boundaries, Sunday night's finale brought things to a whole new level.
The Lifetime psychological thriller, based on the novel by Caroline Kepnes, picked up with Beck (Elizabeth Lail) locked in Joe's (Penn Badgley) glass case of emotion glass cage in the basement of the NYC bookstore he manages after she found his box of stalker/murderer goodies hidden in his apartment ceiling.
See Also
TV Guide Magazine's Damian Holbrook, Matt Roush, and Jim Halterman share which shows you won't want to miss this fall.
He spent the first half of the episode trying to convince Beck he did all of this in the name of love and they're meant to be together. "This" being killing Benji because he let someone die in college, and Peach (Shay Mitchell) because she was obsessed with Beck and tried to kill him at her mansion.
Joe convinced himself he was protecting Beck from the bad people in her life, unable to realize he's actually the dangerous one and a serial killer.
Evil genius Joe also covered his tracks — impersonating Beck, he texted her friends and went on social media to announce she was going on a writer's retreat. He also revealed she was cheating on him with her therapist (which was true) and that they had a huge fight and found out that a P.I. was investigating Peach's death.
Joe had another dire situation to deal with: Paco (Luca Padovan). His young next door neighbor was being chased by Ron (the abusive boyfriend of Paco's mother). To protect Paco, Joe stabbed Ron in the neck as the little boy watched from a hiding spot.
Paco was visibly shaken and Joe told him, "Sometimes we do bad things for the people we love. It doesn't mean it's right, it means love is more important."
See Also
Plus, casts members from 'Sister, Sister,' '7th Heaven,' 'The Cosby Show,' and more appear in some these special TV movies.
Meanwhile, Beck was still locked up in the basement writing her little heart out, trying to make sense of events that unfolded. She told the story of her life, her inner despair, superficial friendships, and why she always chose the wrong guy.
She told the (fake) story about how her therapist, Dr. Nicky (John Stamos), became obsessed with her after their affair and wound up killing her. Joe returned to the basement and Beck told him she wrote the book for him. "I get it now, you did everything for me," she said. "No one has ever loved me like you loved me."
He believed her just enough to open the door, after which she stabbed him and tried to escape, except the only exit door was locked. Enter Paco: he heard her cries inside the bookstore and found her but decided to leave her there, crying for help.
And that's the last of Beck. Cut to four months into the future: Beck is dead and Dr. Nicky was arrested because Joe buried Beck on his property and used the fake book Beck wrote in the basement to frame him.
He then sent the manuscript to Beck's MFA friend, Blythe, and it was published and became a best-seller.
If all that drama wasn't shocking enough, enter Candace! Joe's ex-girlfriend who everyone believed was dead. "Hey bunny," she said. "So I think we have some unfinished business to talk about."
So, whose teeth were in Joe's stalker box? And did she really move to Italy? And why has no one heard from her in months and months? All these questions will hopefully be answered in the series' second season, which arrives on Lifetime in 2019.
The new episodes will shift location to Los Angeles and follow Joe as he mingles with the Hollywood elite, trying to find love.
"There will be a lot of characters and situations from book 2 [Hidden Bodies], but also we're telling the continuing story of the TV show, so I think it's going to be a nice combo platter for people who have read both books and really love them," showrunner Sera Gamble told Entertainment Weekly.
YOU, Season 2, 2019, Lifetime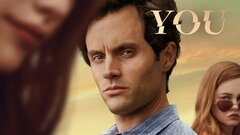 You
where to stream
Powered by