'Charmed' Star Ser'Darius Blain Opens Up About the Macy-Galvin Romance & Starring in His Third Reboot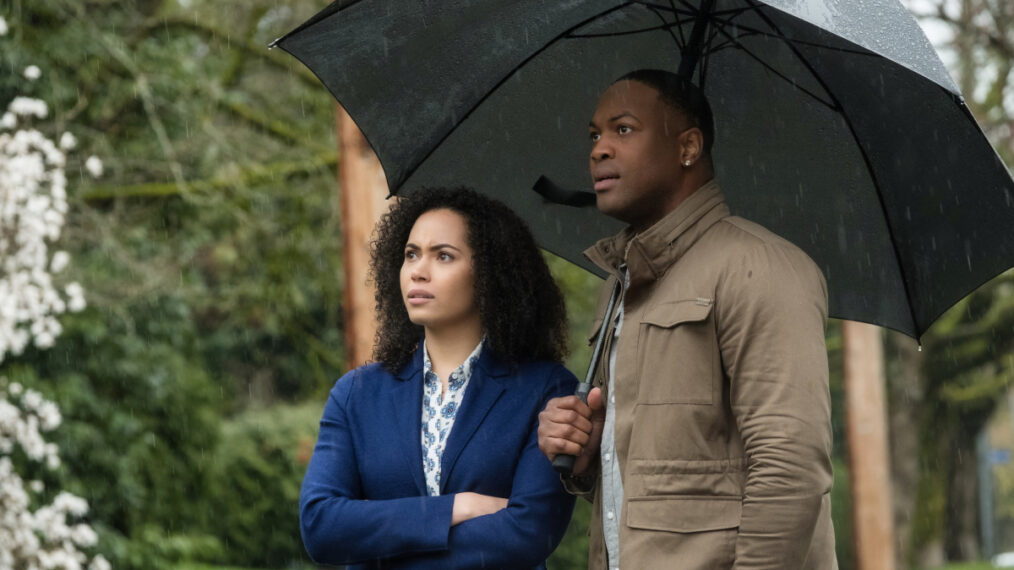 It's no surprise that The CW's Charmed has put a spell on its fans. The fierce trio of witch sisters have put a new spin on what it's like to have magical powers in the present day.
And though the series focuses on the Vera sisters, there is one lab coat-rocking fella who has stolen some scenes: Galvin Burdette, played by actor Ser'Darius Blain. You may recognize Blain from shows like Shameless, Chicago P.D. and NCIS, and now, he's making a name for himself as the love interest for Madeleine Mantock's character, Macy.
Below, we talk to the actor about his first on-screen romance, his hopes for Galvin, and his upcoming role in the film Against All Enemies.
See Also
And does he have his eye on a Saturday programming slate? Plus, his thoughts on 'All American.'
What was it about this particular role that interested you?
Ser'Darius Blain: We're in a renaissance period when it comes to women's rights and human rights — civil rights as a whole. This show has a unique way of standing up to that and making these strong female heroines that save the world every weekend. I think we fall into the mindset of boys needing to have male heroes and girls needing to have female heroes and I think that's kind of the antithesis of what should be going on. I think the show gives an opportunity for little boys to have heroes that are female, as well. So it interested me because I was excited by the possibility of getting a chance to support strong women.
You've guest starred on shows like Shameless, Chicago P.D., and NCIS. How does Galvin differ from those characters?
Well, this was a great opportunity to get back to my scientific roots. I was a biology major in college, and kind of always missed that part of my life, so it's kind of cool to be able to go back, put on a lab coat, and step into the scientific world again. It's also the first time I've had an ongoing love interest in anything, so it would be great to spread my wings in terms of finding vulnerability and sensitivity that comes along with being in a relationship on a show and seeing how that blossoms. I have a great co-star, Madeleine Mantock, she's a fantastic actress and she pushes me on the daily. She makes me a better actor, so this role is great for that.
How was it working on a reboot? Did you feel any pressure to follow in the footsteps of the original?
This is the third reboot I've been a part of, between Jumanji, Footloose, and now this. There's always pressure to kind of fill their shoes. This isn't exactly like the first Charmed. It has some elements, but we're kind of bracing our own trail with this show. I don't feel necessarily as much pressure. We do want to make the fans happy, of course. It seems that they've been happy with the way things have turned out, but we, by no means, want to compare ourselves to the previous one. As great as it was, I think this is a new Charmed for a new generation, and old Charmed fans can have something to look forward to and enjoy, as well.
The November 11 episode is a big one for Galvin. What can you tell us about what to expect?
Let's just say there are some interesting changes to Macy and Galvin's relationship, and we might get some in into who Macy really is in the next few weeks.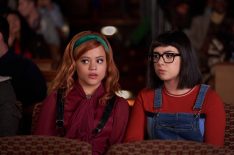 See Also
The actress also plays one of the witchy sisters in The CW's upcoming 'Charmed' reboot.
What is your relationship like with Madeleine off-screen?
She works every single day. She's an incredibly intelligent person, we have good conversations. She's extremely professional in her preparation, and how she prepares for her character and I think you see that specificity on the screen. She's a very nuanced person, as well. She's all about working out all of the details. She's super organized, and she's the kind of person who will know if you added an "um" or an "uh" in a line. It definitely keeps you on your toes. We have a fun relationship.
How do you handle being part of an on-screen pairing that viewers probably have a lot of feelings about?
We're co-workers in real life, and so it's interesting having to fabricate romantic feelings for someone that you don't have any romantic feelings for. I've always wondered how that must be for people working on a show. It's kind of like kissing your best friend — it's interesting. It's been cool to tap into that side of myself, as an actor, and try to figure out how to be vulnerable in that way.
I'm sure as that relationship progresses we'll face new challenges. I think we're so professional with each other that you never really feel any awkwardness, so it's been fun. She's a beautiful lady, I think that ultimately people will be drawn to our characters because of the truth that we bring to them. I genuinely adore her in real life, so hopefully that comes across in the character and you see some sweetness between us. Our characters are progressing. Hopefully people will love Macy and Galvin, we'll see. This was my first on-screen kiss!
Is there anything you want to see happen for Galvin that hasn't already?
In the next couple of episodes, you're going to get an opportunity to explore Galvin's culture and family life. The writers have written my character to have the same culture that I have in real life, so it's really great to see that explored on-screen. My family is Haitian and Dominican, and you don't get to see a lot of Haitian-American characters on TV and film, so I'm really grateful for that and I hope that they'll continue to explore that, since those cultures are so closely tied to witchcraft and supernatural experiences. I'm excited to see how that unfolds.
You were also recently cast in the movies Against All Enemies and The Last Full Measure. What can you tell me about those roles?
Against All Enemies has a stellar cast. I play a Black Panther party leader in Los Angeles during the L.A. Riots in 1968. Vince Vaughn's character is one of the directors of the FBI who basically framed and sets up a bunch of Black Panthers to take them down, and I'm part of that crew. It's going to be great for everybody to see. I'm a huge history buff, so I'm really glad to play such an iconic character and be a part of this humble cast.
See Also
From 'Single Parents' to 'Murphy Brown' where does your new favorite fall?
When it comes to The Last Full Measure, it's one of my favorite projects I've ever had the opportunity to do. I play squad leader, the younger version of Samuel L. Jackson, who ultimately leads his squad into an ambush because he got some wrong coordinates. I hope everyone will go out and see that and support our veterans and our troops. It gives you a newfound respect for everything that they do. I was grateful to have been chosen to play that role.
Charmed, Sundays, 9/8c, The CW