New Fall TV Hits & Misses: 'New Amsterdam,' 'Murphy Brown' 'The Rookie' & More
The new TV season is underway as fresh series jockey for position against fan favorites in yet another high-stakes rumble for ratings. We're only a few weeks in, but some entries already look like leaders, while others have stalled at the gate. Here's a breakdown.
Front-Runners
Drama Kings
Medical and crime shows rule! Case in point: NBC's New Amsterdam, with Ryan Eggold as a hospital medical director shaking things up at NYC's oldest facility, received the first full-season pickup. No surprise, since it's averaging 7.3 million viewers and nipping at the heels of NCIS: New Orleans for the Tuesday 10/9c crown.
See Also
'Manifest,' 'Magnum P.I.,' and 'Singe Parents' are all in the clear so far.
At CBS, superproducer Dick Wolf's latest, FBI, premiered with 10.1 million viewers and earned a full season. And that is now Manifest's destiny: a full season, given that every episode of NBC's sci-fi mystery with Josh Dallas (Once Upon a Time) and Melissa Roxburgh (Valor) has topped sophomore episodes of last season's breakout The Good Doctor, Mondays at 10/9c.
The Power of Kindness
An upbeat, positive message seems to be resonating. That explains the 10.1 million viewers who saw the premiere of CBS's light drama God Friended Me, about a young atheist (Brandon Micheal Hall) who gets a Facebook request from the Almighty. Viewership has settled at close to 8 million for the Sunday series, slightly better for the network than last season's Wisdom of the Crowd in the same slot.
Familiar Faces
As expected, loads of viewers (10.6 million) tuned in to the first episode of The Conners, ABC's spinoff of its abruptly canceled Roseanne, to see how Roseanne Barr's character would be written off (her death came due to an opioid overdose). While that number pales next to the 18.4 million who caught the Roseanne revival's premiere last March, The Conners is the leading debut series of the fall. Well-known names also elevated The Neighborhood, featuring veteran actors Cedric the Entertainer, Max Greenfield (New Girl) and Beth Behrs (2 Broke Girls); the racially charged CBS comedy landed 8.1 million viewers for the premiere.
Fox's resurrected sitcom Last Man Standing (8.1 million viewers) helped lure viewers to its senior-centric sitcom The Cool Kids, with classic TV stars Vicki Lawrence, Martin Mull, David Alan Grier and Leslie Jordan. And having Modern Family as an ABC lead-in worked wonders for Single Parents (featuring Gossip Girl's Leighton Meester and Brad Garrett of Everybody Loves Raymond), which got a full-season order as well.
Long Shots
Down and (Maybe) Out
While we love series star Sarayu Blue (and executive producer Amy Poehler), I Feel Bad has suffered from that underwhelming title and its premise about a demoralized wife and mom. The NBC comedy lost more than 3 million viewers from its premiere. Speaking of viewers, on Wednesday nights it appears they much prefer stalwarts Chicago P.D. and Criminal Minds to the ponderous ABC newbie A Million Little Things, about a group of friends coping with a suicide.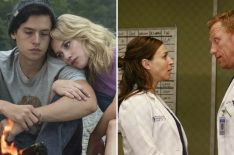 See Also
Pairs from shows like 'Riverdale,' 'Modern Family,' and 'Grey's Anatomy.'
Wasting Their Lead-Ins
Lil Rel Howery is an engaging star, but his live-action sitcom, Rel, is stalling after Fox's popular Sunday animated shows The Simpsons, Bob's Burgers and Family Guy. CBS's Happy Together, which stars Damon Wayans Jr., is bleeding close to 2 million viewers from fellow rookie The Neighborhood, and the heavily promoted CW football drama All American fumbled in its premiere, losing nearly 1 million watchers from its lead-in, the returning hit Riverdale.
Jury's Still Out
Redone Deals
Revival fever has cooled somewhat, which may explain the underwhelming numbers on some touted entries. The buzzy Murphy Brown grabbed only 7.5 million viewers for its CBS premiere, a far cry from the 10.2 million who tuned in last fall when Will & Grace returned, but subsequent episodes have been steady.
The CW's October 14 launch of Sunday night programming saw the rebooted Charmed open with 1.6 million total viewers, improving slightly on lead-in Supergirl— but being on one of the busiest TV nights could hurt in the long run. And after four airings, CBS's Magnum P.I., averaging 6.5 million, is neck-and-neck with Fox hit 9-1-1 in the Monday 9/8c hour, but it's hard to know whether "Aloha" will mean hello or goodbye.
Too Soon to Tell?
Decisions are up in the air on a couple of entries, starting with ABC's much-hyped Nathan Fillion actioner The Rookie (only one episode had aired at press time), now in the unenviable spot of competing Tuesdays at 10/9c with NCIS: New Orleans and New Amsterdam. And while we wait to see how The Conners plays out on the board, the same holds true for The Kids Are Alright, which follows it on ABC.