'Kids in the Hall' Celebrates 30 Years: 10 Highlights From the New Biography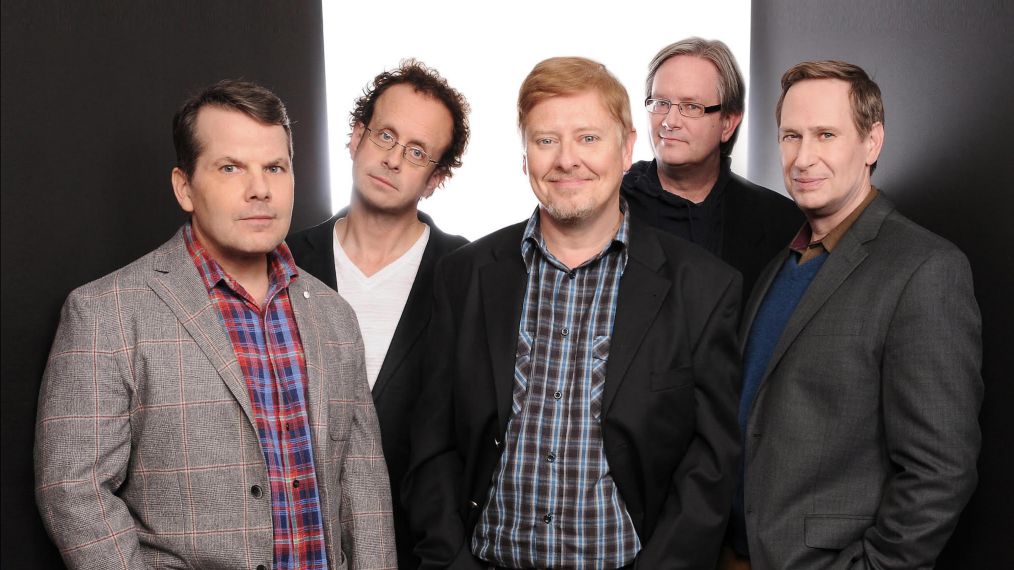 It's been 30 years since American television viewers got their first look at The Kids in the Hall.
Now, a new authorized biography by Paul Myers, The Kids in the Hall: One Dumb Guy, offers an inside look at the crossdressing sketch comedians, chronicling their early years in the Toronto comedy scene, their trailblazing TV series and subsequent reunions on film and stage.
After the troupe's self-titled pilot premiered on HBO in October 1988, Dave Foley, Bruce McCulloch, Kevin McDonald, Mark McKinney, and Scott Thompson — five winsome Canadian guys who shared a devilish sense of humor — began a five-season run on the premium cable channel and CBS from 1989 to 1994.
They rose to cult favorites playing a range of eccentrics and outcasts, like Gavin, an affection-starved youngster fond of telling nonsensical stories; the Chicken Lady, a half-bird, half-human sexaholic; and many more.
But it was with their keen observations about gender and sexuality that the Kids made their greatest impact. They not only dressed as women, they played convincing female characters and looked darn good in their wigs and dresses. And at a time when gay characters were still on the peripheries of television, they were wholly integrated into the Kids' landscape. They were played by all five, not just Thompson, the group's sole gay member.
The book's title comes from something McDonald said about the troupe: "We create most of our own problems… I always say that individually, we're all smart guys, but collectively, we're really just one dumb guy."
Myers (whose brother is comedian Mike Myers) interviewed the Kids and some of their colleagues and famous fans about their work and legacy. Here are 10 highlights.
1. Seth Meyers blew a job opportunity thanks to the Kids
The late-night host, who penned the book's foreword, was enthralled when he discovered The Kids in the Hall through an internship at Comedy Central, which aired reruns in the '90s. Meyers was assigned to catalog the tapes but spent a lot of time watching them. His supervisor noticed and didn't offer him work when the unpaid gig ended.
2. Foley received academic credit for his stand-up debut
The NewsRadio star's life studies teacher at his alternative Toronto high school was in the audience at Foley's open-mike-night premiere. The 17-year-old's first joke? It was about his recent loss of virginity. Recalls Foley, "I said, 'It went terribly! I don't know how to put this delicately, but I've never been very good at threading a needle either.' "
3. Their comic sensibilities weren't always appreciated elsewhere
For a time in the mid-1980s, the Kids split up. McCulloch and McKinney had joined the Saturday Night Live writing team, while the others made the rounds with a Second City Touring Company in Canada. Thompson's disregard for the material got him fired. When Foley and McDonald were reprimanded by management over similar concerns, McDonald announced they were quitting, even though he neglected to consult with his colleague. Says Foley, "To this day it's like a running joke whenever Kevin's mad about something. He'll say, 'I quit for Dave and me.'"
SNL, meanwhile, rejected McCulloch's "30 Helens Agree" bit, a series of short sketches that became part of the Kids' first season, featuring a so-named gaggle of women standing in a field and sharing their thoughts on topics like love and coleslaw.
4. McKinney's Head Crusher owes his existence to McDonald
One of the Kids' most popular characters, Eastern European misanthrope Mr. Tyzik — who pretends to flatten skulls that he lines up between his fingers from a distance — resulted from a lousy double date the Superstore actor and McDonald had with two women. McDonald recalls, "To break the tension, Mark started pinching his thumb and finger together, saying, 'I'm crushing your head. I'm crushing your head.' The girls stormed out, but it made me laugh." Later, when the Kids were working on their HBO pilot, McDonald encouraged McKinney to do the head-crushing bit.
5. The series got a second HBO season thanks to the CableACE Awards
The Kids were about to be left without an American TV outlet when HBO didn't renew the show for a second season. Still, the network sent them to the now-defunct CableACE Awards in January 1990 because Mark McKinney was nominated for best actor in a comedy series. Although Garry Shandling was expected to win for Showtime's It's Garry Shandling's Show, McKinney was the surprise upset. HBO was soon back in business with the Kids.
6. Thompson didn't always feel the love from the LGBTQ community
Openly gay in the mid-'80s — in the midst of the AIDS epidemic and at a time when few comedians were — Thompson felt secure among his troupe mates. "I remember saying I was a f*g onstage was considered shocking at the time," he says. But according to Kids writer Paul Bellini, some of his peers in the LGBTQ community were slow to embrace him and the show. His most popular creation, bar owner and raconteur Buddy Cole, was criticized for perpetuating the effete gay man stereotype. Says Bellini, "What they didn't see was that Buddy was an alpha male with an effeminate bent."
7. Alcohol was a source of inspiration for McDonald
The Kids had a knack for pouring laughs onto pain — some of them grew up with alcoholic fathers — and that's why McDonald abstained from booze until he was 27. His first drink came after a disappointing live show in Calgary, when he went to a bar and McKinney suggested he try a margarita. That situation would become the inspiration for the Season 3 sketch "Girl Drink Drunk," while a Season 2 sketch, "Daddy Drank," included some not-very-nice things the elder McDonald actually said to his son.
8. McCulloch fought to keep Cancer Boy in Brain Candy
Not surprisingly, Paramount was uneasy about having a character called Cancer Boy in the Kids' 1996 feature film, Brain Candy. McCulloch intended it as a critique of media exploitation of afflicted children, and after spending an hour on the phone with an executive who wanted them to recut the film, blurted out, "It's important because my mother died of cancer." She hadn't, but thanks to the lie, Cancer Boy remained in the film.
9. While they were making Death, Thompson was fighting for his life
Not long after the Kids got together to write and star in the eight-episode limited series Death Comes to Town in 2009, Thompson was diagnosed with non-Hodgkin's lymphoma. He had to be rushed to the hospital five times while shooting and expresses gratitude to his colleagues for their support. "I knew I couldn't be 100 percent; they were just going to have to carry me," he remembers. "Sometimes I'd cry and Bruce would come over and lie with me. It was sweet."
10. They aren't ready to come in from the Hall
The most recent reunion for the fiftysomething Kids was a 2015 live tour with new material, and while they all have their own projects, they're not planning to call it quits as a troupe. "I still feel this special energy when all five of us are in a room," says Foley. "When we work together, I know I'm on stage with the four funniest guys I've ever met in my life, and they're making me funnier as a result."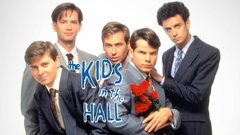 Powered by