Seth Meyers on Late Night TV Post-Trump, Being 'Honored' by Letterman's Visit
Seth Meyers took advantage of a dark week on Late Night with Seth Meyers to come to Los Angeles to partake in a Q&A hosted by Andy Samberg (Brooklyn Nine-Nine), benefiting the Writers Guild Foundation's Library and Archive and community outreach programs.
TV Insider caught up with Meyers to get a 'state of the union' from him on late night TV, how he feels he's different from other hosts, what it was like recently interviewing his late night predecessor David Letterman, and much more!
Do you ever wonder what the landscape of late night TV would be like had the election gone the other way?
Seth Meyers: We were certainly preparing for it to go the other way. It was the opposite outcome of what I expected. I think ultimately we all would have adjusted the way we're looking forward to adjusting when all of this is over.
What might your show's content have been?
I don't know. The nice thing is you have to figure it out. When you have shows like this, it's the same as when I was on SNL. Ultimately, we have a staff of comedy writers that we didn't hire because we thought they'd be perfect for the Trump era. They've all just had to adjust to the Trump era. When that era ends, I think they'll all be very thrilled, myself included, to go back to figuring out what the next thing is.
How do you see your role in late night and your show as being different from those hosted by John Oliver (Last Week Tonight), Jimmy Kimmel (Jimmy Kimmel Live!), and Stephen Colbert (The Late Show)?
Even though I'm a huge fan of all of those people you just mentioned, I don't spend a lot of time comparing what we're doing to them only because you don't have time in the day to focus on that. You basically try to take the news as it happens and process it through the voice of your show. I'm aware there are nights where we're probably all talking about the same thing. But I find it hard to believe that there are many people outside of the small few who have to cover that sort of thing are watching all the shows on any given night. People pick the ones they want to watch and you just try to do the best job you can.
I imagine hosting the 75th Golden Globe Awards in January was challenging in that it was the first awards show after the #MeToo movement had broken. What response did you receive from your performance?
It was lovely and positive. It was really nice at the parties afterwards to be approached by women who had shared their stories in the lead up to the #MeToo movement and have them be complimentary. Certainly, I owe them a larger debt for having the courage to come forward to trying to address a systemic problem in Hollywood. It meant a lot to me to host the awards on a night where there was stuff to actually talk about. We're lucky we have a staff of writers with different viewpoints. We have a lot of women writers. It was helpful to have them in the room when we were trying to find the right tone. It was a rewarding night.
Did a point come after you told a few jokes that you thought, 'OK, this is working'?
Yes. When you walk into hosting the [Primetime] Emmys there are years when it can feel exactly the same as the year before — the nominees and, often, the winners are the same. It's really hard trying just to find [out] what everyone is thinking about. To some degree, everyone at the Globes knew what was coming. We were a few jokes in and there seemed to be a sense of safety. People knew this would be addressed and then we'd get on to celebrating the work that'd been done over the past year.
Do you have any advice for SNL's current Weekend Update anchors, Colin Jost and Michael Che, who are hosting the 70th Annual Primetime Emmy Awards later this year?
I'm having dinner with them next week. I think they have this nice toolbox of other SNL people that they can use in the same way that any good Update anchor does. If they can walk out with 10 good jokes to get the night started, they're in a good situation. What I loved about the Globes is that it's ultimately about the monologue and then you get out of the way. At any awards show, when you have to keep coming out throughout the night, you're sort of at the mercy of what has happened over the course of the evening that has changed everyone's mood — not the least of which is every minute that passes at an awards show there are more people who have lost.
How happy are you that your pal Andy's show, Brooklyn Nine-Nine, has been picked up by NBC after being canceled by Fox?
So happy. Really, the best byproduct of it is that I'm in a group chat [on social media] with other people who spoke out about trying to save it — Lin-Manuel Miranda (Hamilton), Guillermo del Toro (The Shape of Water), Sean Astin (The Lord of the Rings), and Mark Hamill (Star Wars). It's pretty great. Outside of Lin, I hadn't even met them. [Laughs] Now, we just talk about Brooklyn Nine-Nine.
A late night talk show can benefit ratings-wise by a strong primetime lineup. Do you think that ABC losing Roseanne may domino into late night performances?
Of all of us, Jimmy Kimmel is the longest serving. He's been so consistent for so long, I can't imagine anything that would happen on ABC that would affect Kimmel. He's so good and he has a show that just delivers night in and night out.
Any plans to visit SNL or host?
Visiting is always such a lovely thing to do. It's nice to have a purpose. I like going back when one of my old castmates is hosting the show and they need help writing something. Going back with no [specific] purpose feels strange.
Your recent interview with legend David Letterman was great. What does it mean to get his stamp of approval?
First, I couldn't believe he was coming on the show. Second, I felt honored. Also, Dave knows what makes really good talk show guest. He showed up with really good stories. He was engaging. I had all these nerves going into it, but I realized he's not going to need any help. It's not going to be contentious. It'll be about letting one of the best broadcasters in the history of television have broadcast time again.
How do you handle the ones you may need to elevate?
I try to be a good listener and clock to see if they really need help. Some of them want to talk directly to the audience and tell a story. The more you do them, the more you realize what different interviews need. Once I get to that part of the show it doesn't feel like work anymore event though there's a skill set to interviewing people. But the beginning of the show, which is about doing material that's been written for that day, is the job.
Dave asked you about using the word 'Tomorrow' in your show's title (a nod to Tomorrow with Tom Snyder). The model was designed by late NBC programming legend Pat Weaver, who created Today and The Tonight Show.
When I first got the show, I went on Dave's show [on CBS] and he told me I was a dope for sticking with 'Late Night' in the show's title and not calling it 'Tomorrow.' I should say it wasn't just honoring the legacy of Letterman in keeping 'Late Night.' Other people between Dave and myself — be it Conan [O'Brien] or Jimmy [Fallon] — had done the show with 'Late Night' in it. It'd seemed weird to be the fourth guy and say, 'I don't like this!' Even Trump hasn't changed the color of the White House.
Speaking of politics, is there anyone on the political landscape you could see yourself playing on SNL in a recurring role?
It hasn't happened yet. [Jared] Kushner would have been closest, but [Jimmy] Fallon grabbed it right out from under me. But I think we're going to have a lot of new faces in 2020 so, maybe then?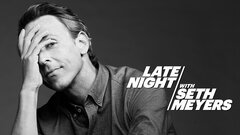 Powered by