Becky Lynch on WWE's Inaugural All-Women's 'Evolution' PPV Event & Her Rise to the Top
Becky Lynch was tired of playing by the rules. She had reached a breaking point, and in a true realization of the adage that "well-behaved women seldom make history," a slap to best friend Charlotte Flair's face at SummerSlam ignited a straight fire ascension to the top for Lynch.
She soon found herself SmackDown women's champion and one of the most popular performers in the division despite her villainous ways. In many eyes, the Irish "Lass Kicker" is hottest thing going in WWE today.
"It has been incredible, but it's been playing the long game," Lynch said. "It was built out of so much frustration as a human, character, just as a person. If you're not in this to be the best and the top dog, then what's the point. I think it's the same for anything in life. There was a lot of times where I felt overlooked, and you questioned why. You're doing all the right things, but it's just not your time.
"Everything is cyclical in WWE, in the world. Sometimes you'll feel up and sometimes you'll feel down. I was feeling like I was down too long. The crowd felt I was down too long.
"I felt in that moment with Charlotte, the place erupted because it wasn't a story that was manufactured. It was something that felt real because it was built on real feelings across the board. You almost don't plan that stuff. Maybe it was in the grand scheme of things the whole time, but it felt like for three-and-a-half years this was the culmination. It was as if this was a three-and-a-half-year storyline."
Perhaps the seeds for Lynch's onscreen transformation could be traced to the set of The Marine 6: Close Quarters. In the next installment of the WWE Studios film series she portrays Maddy Hayes, someone with whom Lynch could find similarities, including not taking any crap and making her own way while demanding respect. During filming the budding actress got to work with not only the franchise's star Mike "The Miz" Mizanin, but Hall of Famer Shawn Michaels.
"Things weren't going as well as they are now before I left to shoot," Lynch said. "I remember him giving me advice saying, 'When you go back, go in as a different person. Hold your head a little bit higher. Have that attitude that you're a top star. Go with it. I think this is what I've been trying to do since I came back."
Lynch credits the success to a collaborative effort with writers and producers. Sometimes there are compromises. Other times they are all in agreement. She likes to think of the details heading out to the audience.
Lynch also likes to get a sense of what will resonate with the crowd, taking into account what she would want to see and work to bring it to life. The rebel fight against the establishment vibe the performer gives off has drawn natural comparisons to "Stone Cold" Steve Austin.
"Steve has been very supportive and generous with his time," Lynch said. "He talks to me and gives me matches to watch. That has been wonderful.
"Then I was with Mick Foley recently and talking to him. He is one of the reasons I'm here today. He was someone who helped bring me back into wrestling. I've been very lucky for the support I've gotten from people who have been here before and done wonderful things in the business."
The timing of the rise of this free spirit couldn't come at a better time. WWE is gearing up for its first-ever all women's Pay-Per-View event, Evolution. Many on the card have made an indelible mark on Lynch.
"I remember just seeing Lita for the first time," she said. "I remember thinking how cool she was. She hung with the guys. I think that was a realization for me that you can be spunky. You can do whatever you want. You can be a badass. I can't think of a specific match that brought me to this moment. I remember her being such an important idol for me. A hero I can look up to."
Today Lynch is a hero (antihero?) to those who have ever felt slighted or underappreciated. She goes into Evolution facing Flair in a historic last-woman-standing match. In what could be the last big chapter in this heated rivalry, the title holder is approaching it the same as any other outing.
"Every match I have I bring the absolute best I can," she said. "I want to steal the show. If you got two, three minutes, you give them the best two, three minutes, that they are going to get. With this, it's no different. I want to give the fans one hell of a show to prove that the champ is here to stay."
For Lynch, the event is another important milestone and step forward. The question is will it be a one and done or a more regular new tradition?
"This is our job. This is what we're there to do. We should have enticing storylines, wonderful characters and four or five-star matches all the time because why wouldn't we? I am not opposed to this being a yearly thing, but I think it comes down to what the storylines are or where we're going," she said.
"Maybe sometimes it will be an accidental all-women's Pay-Per-Views because in the past there have been plenty of accidental all-men's Pay-Per-Views. Why would it be different for women? It can be accidental. It can be deliberate.
"Either way, no matter what show we are on, we have to steal the show over and over again. We just have to constantly raise the bar. And that is exactly what we are doing."
WWE Evolution, Sunday, October 28, 7/6c Live, Pay-Per-View and WWE Network
The Marine 6: Close Quarters, available on Blu-ray and digital Tuesday, November 13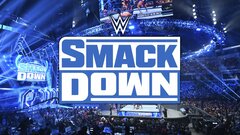 Powered by