'Fresh Off the Boat' Creator Nahnatchka Khan Previews Season 5 as Show Helps ABC Relaunch TGIF
There have been some tremendous inroads made lately when it comes to Asian-American representation in entertainment. Crazy Rich Asians, starring Constance Wu, continues to smash box office records and exceed any kind of expectations at the movie theater. And Sandra Oh was the first Asian actress nominated at the Emmy Awards for lead in a drama series for Killing Eve.
Looking back at all these recent milestones, it can be argued at the forefront of this recent uptick is Fresh Off the Boat. The ABC TV comedy centered around the a family acclimating to life in Orlando. The show is the first network sitcom starring Asian Americans to reach syndication.
Before its fifth season gets underway as part of the new TGIF lineup, we sat down with Fresh creator and executive producer Nahnatchka Khan on what's next for the Haungs.
In reading about your backstory, a bit, I had to ask about the Iron Sheik. Someone you mentioned during your childhood you identified with because he was from Iran and stood as a representation of Middle Eastern culture on television. Have you ever considered having him as a guest star on one of the episodes?
Nahnatchka Khan: You just exploded my mind. That would be the most amazing thing if the Iron Sheik was on the show. I feel like he has a lot of stuff going on right now. But that would be my dream guest cast. I can text you a picture right now of an Iron Sheik action figure that is on my cork board. It's like pinned to it. It's the best thing ever.
Getting a bit more into Fresh Off the Boat, what's the feeling on set this year coming off the success of Crazy Rich Asians with Constance Wu. What was it like returning to set? Do you feel reinvigorated with the momentum that is building?
We're super thrilled for Constance and the movie. It's incredible that it has done so well. We're so happy. It's the next step in romantic comedies. It's the next step in representation. It's kind of what we first talked about when we started Fresh Off the Boat four years ago.
This is just the beginning. We want there to be more. There are more stories to tell. There are more types of stories in different venues and formats. To see a theatrical release, romantic comedy doing so well and be so well received is gratifying. Let's keep it going. Let's keep it rolling.
What are your thoughts on the show being this platform for Constance, for Randall Park and others to show their talents and be able to parlay that into other projects?
It's incredibly satisfying. Getting to work with those guys for the past four-and-a-half years, we know how talented they are. We know how incredible they are on the show.
It's that old adage that TV makes movie stars or something like that. To see it actually happen is pretty incredible. You reach a point where you're like, "Wow, so this is what they're talking about." We've known. We've been knowing. And now to see everyone else know how talented they are on different platforms is amazing.
Over the last few seasons there has been a lot of growing up when it comes to the Huangs. Talk about what we can expect this season. It seems growing is the over-arching theme here.
That's exactly it. We're basically going to pick it up where we left off. We're going to continue the theme of growing and start to explore what that means. I think we find it interesting within a family unit, there is an established dynamic of when you're a kid. And as you get older, those dynamics start to shift and change, creating a ripple effect among the family.
As Eddie starts to mature and come into his own, we're going to explore that with him in various storylines. What does that do to the rest of the family, the younger boys? There is a void to be filled. Does one of them fill it or go in an opposite direction. What does that do to the parents?
Jessica has her own thing coming up. In the finale, we talked about her book coming out. She is going to be dealing with that. Louis is going to be trying to figure out what it means for him as his kids age, and he is going to try to pull them closer. It's an interesting theory to what happens to a family unit when things start to change. Really when the children start to change and get older.
What is it like to find that balance where you're a comedy, but you also want to touch on these serious themes?
For us, that has always been our sweet spot. The fact we're also a period show that takes place in the 90s. It has made it this sort of an interesting exercise for us to discuss stuff that is very relevant today, but also keep it light, funny and entertaining. That has always been at the forefront. We really love talking about issues that other shows don't talk about or aren't relevant to them.
Are there any themes you want to touch on that you haven't gotten a chance to yet?
This season Jessica and Louis are going to discover that another Chinese family has moved to the neighborhood. That's going to be a huge thing to them. They've been praying for this day since they've moved to the all-white suburbs. That's going to be an interesting thing now that there is more than one, how does that impact everybody? Are you going to be friends just because you're the same ethnicity and race? Does that bond you immediately or is there more to it than that?
I think exploring things like that is definitely interesting for our show. One of our character, the neighbor Honey was pregnant last season. She is going to have her baby this season. There is the whole element where Jessica tries to introduce her to the Chinese custom of sitting the month after you have a baby, and what that entails. There are these sitcom stories that you sort of have seen before, but you haven't seen them told this way and through this lens. I think that is what we're excited to do.
Over the years you've had some really great guest stars, can we expect much of the same this season as well?
Absolutely. The Chinese couple that I mentioned Ming-Na Wen is going to be on the show. Jimmy O. Yang is going to be play her adult son, which we are very excited about. Jaleel White is going to be in the premiere episode. Kareem Abdul Jabbar will be in that episode with an assist from Michael Cooper. We've got a lot of fun guest spots lined up.
You mention Jaleel White; what are your thoughts on the show moving to Friday nights to be part of the revived ABC branded TGIF lineup. It was appointment television when I and others were growing up. What is it like for the show to be part of this new generation of viewers kind of experiencing that?
It's really exciting. I'm all for more comedy on TV in general. I think that TGIF was one of those iconic brands. Like you said, people grew up on it. They knew what to expect. They were some of their favorite shows that defined their childhood.
I think slowly over the years, ABC has kind of been compiling the building blocks to do something like this. They have been putting shows on Tuesday and Wednesday that they could put on Fridays to create their reboot of TGIF. All the pieces have been there. It's cool to define it like that. It really fits in with our show because we take place in the 90s. So, they could be watching TGIF in the house of the show that is on the current TGIF.
Do you think there will come a point where you go into the new millennium?
We've been progressing through the 90s as our show has progressed. When we premiered we were in 1995, and every season we've moved forward. When we come back we will be in 1998, so it depends how long the show stays on the air and if it stays past Y2K or not.
When you say 1998, what are some of the things we can expect to see from that year? One of the things about a show like this is the little nuances and nods to that period of time infused in each episode.
It's fun. For all of us, and especially with Jessica's book, we were doing our research when the writers came in pre-production. We realized that in 1998 that is when the first Harry Potter book came out, the Sorcerer's Stone. In the premiere episode, you'll see a poorly timed book release coinciding with the Harry Potter book release.
Thank you so much for your time. I really appreciate it. And if Iron Sheik ends up being a guest star, I'll be happy.
You and me both.
Fresh Off the Boat Season 5 premiere, Friday, October 5, 8/7c to kick off the return of TGIF on ABC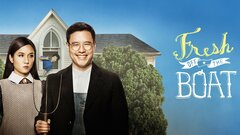 Powered by