The Jimmy-Kim Divide & More Major 'Better Call Saul' Moments From 'Piñata' (RECAP)
Piñata
Season 4 • Episode 6
[Warning: The below contains MAJOR spoilers for Season 4, Episode 6 of Better Call Saul, "Piñata"]
As Better Call Saul's fourth season moved into its second half this week, fans were given a thoughtful and arguably more subdued episode with "Piñata."
But don't be fooled by its simplicity — plenty of stories played out over the course of this installment, including: a poignant flashback, tales of persistence, and some growing empires. And, of course, what would an episode of Better Call Saul be without an appearance of yet another Breaking Bad character?
Below, we take a look at some of the most important moments in Season 4's sixth episode. Just beware of spoilers!
Chuck's Return
As with last week's episode, this week openes with a flashback — but this time, it was of Jimmy (Bob Odenkirk) and Kim (Rhea Seehorn) working at Hamlin Hamlin McGill. The pair are hustling through the office in more ways than one, as Jimmy collects bets for an Oscar pool while Kim keeps her nose to the ground as a third-year law student admiring the work of her peers. Suddenly, another face is resurrected from the dead when Chuck (Michael McKean) enters the scene.
Here, viewers discover Kim's early passion for case law – something she's been pursuing since last week's episode in her pro bono work. But when Jimmy tries to join the conversation, Chuck is dismissive, basically rolling his eyes at his little brother. Once the characters separate, we see Jimmy pass the library in the office – could this be the moment that he decided to become a lawyer?
The Growing Divide Between Jimmy and Kim
Throughout the episode, it becomes even more apparent that this pair is moving in very different directions. After a late night of working on the Mesa Verde case, we can see that Kim is distracted by her desire to help real people in case law as opposed to working with companies. When she enters the bedroom, she finds Jimmy asleep with a notepad outlining plans for a joint firm they'd previously created before Jimmy's license was suspended. Jimmy has one foot planted in their past endeavors, and Kim is having second thoughts.
The tension only intensifies when they discuss Jimmy avoiding therapy after Chuck's death. Later, Kim pays a visit to Schweikart & Cokely – the firm tied to Sandpiper Crossing nursing home – and essentially offers her services. She reveals this offer to Jimmy over drinks, but his sudden departure from the table doesn't fool Kim — even after he tells her to take the job. Could the end of this once dynamic duo be approaching?
Mike in Charge
In last week's episode, fans were shown the early steps taken to create the lab run by Gus (Giancarlo Esposito) and used by Walter White (Bryan Cranston) in Breaking Bad. This week, Mike (Jonathan Banks) takes charge as the crew settles in for the long haul of total isolation while the project comes together. When the men arrive and are greeted with great amenities, one man makes a blip on Mike's radar: Will newbie Kai (Ben Bella Bohm) meet an early end as Mike (or Gus) sets an example for the rest of the crew? It wouldn't be surprising.
Gus' Tale
Fans of the Breaking Bad and Better Call Saul know that Hector Salamanca (Mark Margolis) and Gus are bitter enemies, but during this week's hospital visit, viewers glimpse an even darker side to that animosity. Essentially, Gus shares a memory with the comatose Hector about his family's hardships, a prosperous fruit tree, and the creature that threatened it. Even as the creature attempted to evade Gus' clutches, the menacing man illustrated his knack for persistence in the face of adversity – a plain and simple implication that, despite Hector's declining state, Gus will wait patiently for the day he might wake up. The one-sided exchange darkens Gus' character considerably from the community member civilians see.
Howard's Push
The once-solid figure, reduced by his grief over Chuck, is suffering – and not just personally. His business is also struggling under the pressure. When Jimmy pays Howard (Patrick Fabian) a visit to collect his allowance from Chuck's will, he notes the empty desks and disheveled appearance of the HHM lawyer. Jimmy basically tells Howard to man up and get over the situation to bring HHM back into the light. It's hard to discern whether the exchange is literal or intended to light a dormant fire within Howard. Ultimately, it appears as if the conversation will spark a positive change in Howard following the big loss.
Jimmy's Proposition
Since Kim decides to pursue her individual interests, Jimmy does the same — building his cell phone side business. He begins by approaching last week's thugs, attempting to broker a deal by offering to pay the kids push his stock. But when they deny him, he turns to alternative methods, which include the help of Breaking Bad henchman Huell (Lavell Crawford), a baseball bat, and the kids suspended among fragile piñatas. Finally, they agree to keep out of Jimmy's way and build his street credit among potential clientele. The event pushes Jimmy further into his life as the criminal lawyer fans know all too well.
Better Call Saul, Mondays, 9/8c, AMC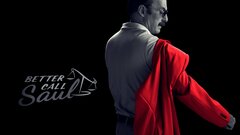 Powered by