Vince Gilligan & the 'Better Call Saul' Cast Preview Jimmy's Transformation Into Saul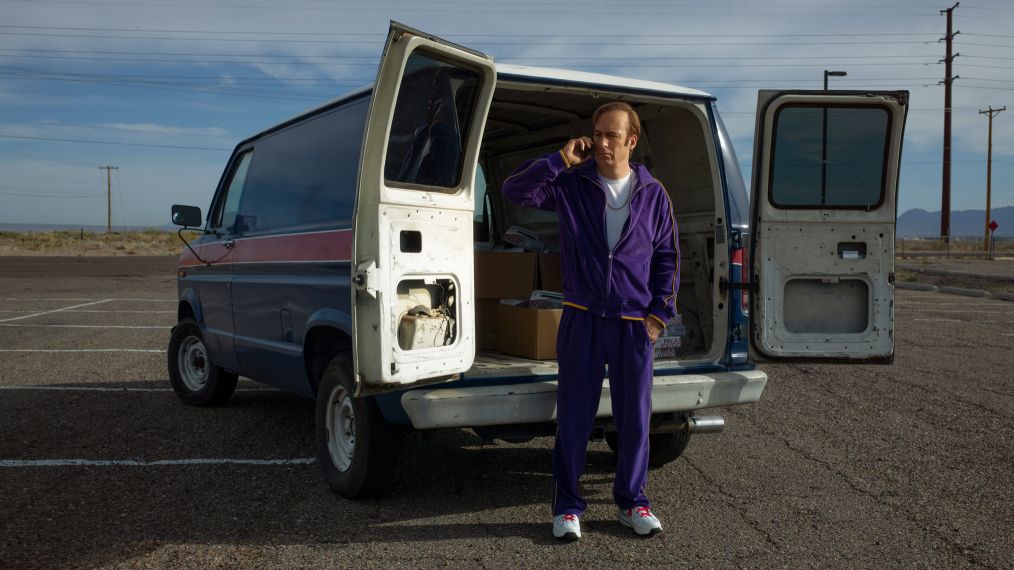 The Albuquerque set of Better Call Saul has an air of somberness this April afternoon. Actors Bob Odenkirk (lawyer Jimmy McGill) and Rhea Seehorn (Jimmy's girlfriend and fellow attorney, Kim Wexler) are rehearsing a tense midseason scene that conveys just how distant the couple has become, and while we can't divulge exactly what has brought the pair to this disconnected state, we can reveal that Season 4 of the AMC drama is all about transformation—and it pushes the series into the heart of darkness.
At the forefront is the long-awaited metamorphosis of Jimmy into Saul Goodman — the con man fans know from the show's predecessor, Breaking Bad — which is the driving force of the new season. But this isn't the only turn in the road: "Better Call Saul gets darker and more violent than it's ever been," executive producer Vince Gilligan says.
See Also
The 10-year reunion shared fun stories and facts and addressed those 'Fear the Walking Dead' crossover rumors.
"That was the natural evolution of these worlds colliding." (Unfortunately, Gilligan confirmed at a July 19 San Diego Comic-Con panel that Bad's antihero drug dealers Walter White and Jesse Pinkman, played by Bryan Cranston and Aaron Paul, will not be on Saul this season. But he did offer some hope: "We'd be sorely remiss if these characters didn't appear on the show before it ended.")
The new episodes pick up just hours after last season's heartbreaking finale, when Jimmy's semi-reclusive brother, Chuck (Michael McKean) — suffering from electromagnetic hypersensitivity (a psychological condition with zero scientific basis) — committed suicide by setting fire to his home. While the once-close McGill brothers had become estranged by then, news of Chuck's death has an unexpected effect on Jimmy. "It's strangely freeing and allows some of Jimmy's worst instincts to start to come to the fore," says Odenkirk.
See Also
The 'Breaking Bad' prequel returns bigger and badder than ever.
Kim, meanwhile, is veering down a different track, one that began last season when her over-obsessive work ethic led to a car accident. She's still recovering both physically and emotionally. "Kim is trying to find her anchor again because she has been literally hobbled and forced into slowing down," Seehorn says. "Jimmy's the only person she would normally speak to, and there's a wall there right now, whether it's grief, avoidance, escapism or suppression."
But while becoming the craftier Saul may hurt Jimmy's relationship, his new identity will come in handy as he inches closer to the dangerous world of the New Mexico drug trade. Moving into the center of that business is ambitious Los Pollos Hermanos chicken restaurant owner Gus Fring (Giancarlo Esposito). He's already a player in the game, but seizes the opportunity to absorb Hector Salamanca's territory now that the ruthless drug boss (Mark Margolis) has been waylaid by a stroke. As Gus becomes the determined villain we know from Bad, "You see something we've only seen glimpses of before, which is Gus's fury and what it's like to be on the wrong end of his anger," says executive producer Peter Gould.
Meanwhile, former cop Mike Ehrmantraut (Jonathan Banks), who quits his under-the-radar parking attendant job to work for Gus, manages to stay on his boss's good side but is determined to do things his own way. "Mike is a loyal servant," says Esposito. "He steps up and does some actions that surprise Gus." And since Mike and Jimmy have been pulling scams together since the show's first season, the time for certain paths to finally cross could come sooner rather than later. "Saul and Gus get much closer [physically] than they've ever been before," Gould promises.
See Also
Plus, portraits of the casts of 'Lucifer,' 'Supernatural,' and other shows.
Looking further ahead beyond the Breaking Bad timeline, viewers will continue to get glimpses of Saul's life as "Gene," the Cinnabon worker always looking fearfully over his shoulder. But don't simply assume things will end badly. "It's possible there's a happier, more redemptive end even beyond the events of Breaking Bad," Gilligan teases. Whether that future for Saul includes Kim remains to be seen but, as Gould reminds us, "the moments when Kim and Jimmy have had a lot of fun have often been when the two of them have been scamming together." Perhaps a partner in crime is just what Saul Goodman needs.
Catch an exclusive sneak peek at the premiere below:

Better Call Saul, Season 4 Premiere, Monday, August 6, 9/8c, AMC