CBS Confirms: 'The Good Wife' Will End After This Season
CBS just confirmed, via a promo during Super Bowl 50, that The Good Wife will complete its run this season.
The show, which will end with a series finale on Sunday, May 8 at 9/8c, has nine episodes to go. It had been speculated that this may be the end of The Good Wife, following the previously announced departure of showrunners/executive producers Robert and Michelle King. (The married writing duo are focusing on their new CBS summer series BrainDead).
Star Juliana Margulies had also previously quipped that she would be out of a job after this season.
"I'm unemployed come April, and I think you haven't seen me in awhile—at least not in person—so I thought I should show up," Margulies said last month while honoring the Kings at the Casting Society of America's Artios Awards. Turns out she wasn't joking.
The decision was made fairly recently, and clearly CBS wanted to make a splash by surprising fans during the most-watched event of the year. Just last month at the Television Critics Association press tour, CBS Entertainment president Glenn Geller first revealed that the Kings were departing.
"We have a deep bench on the show," he said at the time about the show's future. "Some of the writers have been there from the beginning, and we haven't made any determination. It's just January, so we haven't determined if there will be another season or not."
A few weeks later, that decision has been made.
"It's never easy to say goodbye to one of the crown jewels of your network and studio, much less to a show that is among the best on television," CBS Entertainment president Glenn Geller and CBS TV Studios president David Stapf said in a joint statement.
"But it also feels very right to end with the seven-year story its creators envisioned, and to celebrate the show's final run while at the top of its creative game," the execs said. "It has been CBS's sincere privilege to broadcast and produce The Good Wife for seven extraordinary seasons. We thank and applaud the outstanding cast, led by the impeccable Julianna Margulies, and the consummate writing and producing team, headed by the brilliant Robert and Michelle King, who brought to life a smart, sophisticated series that has delivered audiences so many memorable characters and unforgettable moments. It is a series that will only grow in prestige as its episodes are watched again or discovered by new viewers for many years to come."
The Kings, also in a joint statement, called working on the show "a dream."
"We're looking forward to using this seventh season to bring Alicia's story to its natural conclusion," they said. "We couldn't be more excited and grateful."
Margulies, previously known for her key role on ER, called working on The Good Wife "one of the most rewarding experiences of my career."
"As an actress and a producer, it has been an absolute honor to be a part of a series that, throughout seven years, never settled on being just good… but always strived to be extraordinary," she said. "I have witnessed magic happen when Robert and Michelle King put pen to paper, and it has been a privilege to be in the company of their brilliance. To the most amazing and talented cast and crew, there will always be a special place in my heart for our Good Wife family. As we close the book on our beloved show, I am humbled and grateful to know that together, we created and were a part of something truly remarkable."
The Good Wife premiered on Sept. 22, 2009. The show's wins included two Emmy Award nominations for Outstanding Drama Series, and three Golden Globe Award nominations for best drama series, while Margulies has won a Golden Globe Award, two Emmy Awards and two Screen Actors Guild Awards.
The show also Christine Baranski, Matt Czuchry, Alan Cumming, Chris Noth, Cush Jumbo, Jeffrey Dean Morgan and Zach Grenier. Former cast members include Josh Charles and Archie Panjabi.
Here's the CBS promo that revealed the news during Super Bowl 50: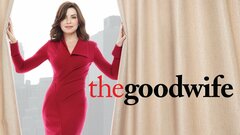 Powered by