'Bachelor in Paradise' Episode 8: Someone Put a Ring on It (RECAP)
[SPOILER ALERT: This recap features spoilers from Season 5, Episode 8 of Bachelor in Paradise.]
It might be Labor Day, but Bachelor Nation never takes a Monday off — not when Bachelor in Paradise is in full swing, anyway.
And this time around, ABC has treated us to a three-hour-long episode that was packed with drama, because (shocker!) the relationships that have grown on the show so far aren't exactly built to last.
And yes, before you ask, that includes Colton and Tia, who we've heard all too much about this season. But what about Joe and Kendall? And Chris and Krystal? Well, there are a few updates… and they're not all good.
Here's what you missed on Bachelor in Paradise:
Eric & Cassandra
Remember how last week, Eric's decision to go on a date with Cassandra rocked Angela's world, being that he just told her he was all in with her? She's not the only one who's freaked out by this because Eric's choice has all the women doubting themselves.
Meanwhile, as all that drama was going down, Eric and Cassandra were having a blast, and Eric even revealed to Cassandra about how Angela was taking things too slow for his taste. Um, what?!
This ended up backfiring on him later because Cassandra and Angela talked, and Cassandra took Angela's side 100%. Boy, bye.
Colton & Tia
The heat is on as the drama in Paradise reaches an all time high. An all-new #BachelorInParadise starts now. Retweet if you're watching! pic.twitter.com/sV9U3Nt0rG

— Bachelor in Paradise (@BachParadise) September 4, 2018
We knew the breakup had to happen sooner or later, but we had no idea it was going to be this brutal.
Despite the fact that Tia was convinced she and Colton were going to end up engaged at some point, Colton wasn't feeling it, and he had to be honest with her.
There were a lot of tears, and in the end, they both decided they wanted to leave. But the best part was Colton's answer for ending things: he didn't feel "it" with Tia.
Poor Tia was understandably heartbroken, and honestly, so was Colton. Is it just us, or has reality TV put that guy through the emotional wringer this year?
Shushanna & Christen
Whew! It could have been Twitter! #BachelorInParadise pic.twitter.com/3FAvs7cVSj

— Bachelor in Paradise (@BachParadise) September 4, 2018
These two arrive and the ladies weren't thrilled, because this meant it would be that much harder to get roses this week. Can you blame them?
Much to Annaliese's dismay, Shushanna made a beeline for Kamil, and she asked him on a date, which he accepted. And as for Scallops — uh, Christen? She asked Venmo John on a date, because she clearly has impeccable taste.
An Engagement
We all knew this was coming at some point this season, and now, it's here!
After falling in love (kind of? Not really) in previous seasons of Bachelor in Paradise, it was only appropriate that Jared come back to paradise to pop the question to Ashley, right?
.@haibon_jared and @ashleyiaco a paradise love story that's been a long time coming! #BachelorInParadise pic.twitter.com/BonPSkKS9O

— Bachelor in Paradise (@BachParadise) September 4, 2018
After the sweetest proposal, Ashley got the a very sparkly Neil Lane ring, and there were tons of tears.
Poor Kevin looked pretty bummed to watch his ex get engaged right in front of him, but all is fair in love and war, right? At least it earned him a date with Astrid.
The Cocktail Party
Jordan enters paradise with a rose and hour to figure out who receives it! #BachelorInParadise pic.twitter.com/fD60QTufIm

— Bachelor in Paradise (@BachParadise) September 4, 2018
For the record, Cassandra's heart-to-heart with Angela did zero to keep her from Eric, even though it seemed like it might at the beginning.
And John, who just let Olivia know he was super into her, was still flirting with Christen. Awkward!
As if there weren't already enough risks being taken at this rose ceremony, Chris Harrison introduced a new guy with a rose to give out at the last minute: Jordan from Bachelor New Zealand (and the Bachelor Winter Games).
Stir Things Up
"People are falling in love here. Paradise is working." – @chrisbharrison #BachelorInParadise

— Bachelor in Paradise (@BachParadise) September 4, 2018
Roseless, Chelsea went to find a guy wherever she could and unfortunately, that meant that she went for Kamil.
She then immediately told Annaliese that Kamil doesn't seem like he's into her as much as she thinks. Can this girl catch a break?
Annaliese had just about enough and called Chelsea out in front of everyone, and Kamil basically stayed silent, which wasn't cool, but the show must go on, and the rose ceremony began.
Things went about as expected, and then, it was Kamil's turn to hand out the rose, and he gave it to Annaliese.
That meant that Chelsea, Christen, and Angela were all sent home — and at the end, Christen was on the floor, lightheaded — probably from dehydration more than the lack of a rose.
Meanwhile, Chelsea had a complete meltdown, and that's just the beginning. Fortunately, all will be revealed in the next episode… and that's happening tomorrow. 'Til then!
Bachelor in Paradise, Mondays & Tuesdays, 8/7c, ABC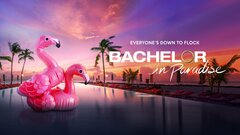 Powered by