DC Universe's 'Doom Patrol' Casts 'OITNB' Star Diane Guerrero as Crazy Jane
DC Universe's Doom Patrol is coming together, as the show just tapped Orange Is the New Black actress Diane Guerrero for a key role.
Guerrero will play Crazy Jane, a member of the Doom Patrol alongside outcasts Robotman, Negative Man, and Elasti-Woman. Described as an "unlikely hero," Crazy Jane is ailed with "the world's most severe case of multiple personality disorder.
See Also
Geoff Johns & Greg Berlanti will serve as executive producers.
This ragtag group, led by Dr. Niles Caulder, is called into action by a "hero for the digital age, Cyborg." As they work together, this team of misfits will travel to the "weirdest and most unexpected corners of the DC Universe."
Each of Jane's personalities — 64 to be exact — comes with a different super power which makes Jane the Doom Patrol's most powerful (and volatile) member. The series is set to debut in 2019 on the DC Universe streaming platform, and will consist of one-hour episodes.
Guerrero is best-known for playing Maritza Ramos in Orange is the New Black, as well as her supporting roles on shows like Superior Donuts and Jane the Virgin. In addition to her acting work, Guerrero is also an activist and accomplished author.
Don't miss her as Crazy Jane when Doom Patrol drops in 2019!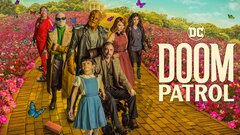 Powered by