'Better Call Saul' Season 4 Trailer: Chuck's Fate Is Revealed, Gus Reigns & More (VIDEO)
Things are looking dark — dare we say bad — for Better Call Saul's protagonist Jimmy McGill (Bob Odenkirk).
In the first full-length trailer for the show's fourth season, Jimmy's brother Chuck (Michael McKean) has officially been declared dead by the writers as the clip opens with his funeral.
See Also
The AMC hit series returns in August.
"You were a lawyer. What changed?" asks an ominous voice, as scenes of Jimmy's struggle to find a job are revealed. Lucky for "Slippin'" Jimmy, Kim (Rhea Seehorn) is sticking by his side. But he's up to his old tricks, it would appear, as he sneaks around and plots with Mike (Jonathan Banks) for more lucrative but less ethical means of cash flow.
Fans will remember that Jimmy's permission to practice law was suspended for a year, leaving him with little to do in terms of "helping" others. But because of this, fans began to see his transformation into the character they met on Breaking Bad nearly 10 years ago.
Meanwhile, the strained cooperation between Gus (Giancarlo Esposito) and the Salamancas — including Nacho (Michael Mando) — shows that even before Walter White, Mr. Fring was all about business — especially when he's heading it up. And some familiar faces outside of the main cast make appearances, including: Lydia (Laura Fraser), the Salamanca Twins (Daniel Moncada & Luis Moncada), and more of Gus's crew.
During one of Mike's meetings with Lydia, she warns him against crossing Gus saying, "You have Gus Fring's respect, I'd want to keep that if I were you." And as for Kim, well, she's fighting with Howard (Patrick Fabian) about what's fair.
Catch it all when the show returns August 6, and check out the full trailer below.
Better Call Saul, Season 4 Premiere, Monday, August 6, 9/8c, AMC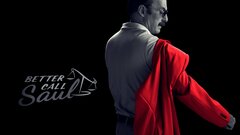 Powered by