When Will the Golden Globes 2019 Air?
The 76th Golden Globe Awards ceremony still doesn't have a TV network home yet, but the Hollywood Foreign Press Association has announced the air date regardless.
The awards show will take place on January 6, 2019, at the Beverly Hilton Hotel, according to Deadline.
The submission website is open today, and the nominees will be announced on December 6.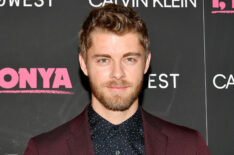 See Also
Plus, 'Whiskey Cavalier,' 'The Righteous Gemstones,' and more pilot news.
NBC, which has long carried the broadcast, is reportedly in the middle of negotiations, but CBS and Fox have also met with reps from the HFPA and Dick Clark Productions, since NBC's contract expired in April.
According to Deadline, NBC was paying "in the mid-$20 million a year for the Globes," and have the right to match any lower offer from another network if the opportunity presents itself because NBC has such a "longstanding relationship with the HFPA and DCP."
See Also
'Game of Thrones,' 'Westworld,' and 'SNL' headed up the pack. Were your favorites nominated?
And not to go unnoticed, the Globes' past hosts have included top NBC talent such as Tina Fey & Amy Poehler, Jimmy Fallon, and Seth Meyers. Last year, 19 million viewers (5.0 rating among adults 18-49) watched the three-plus hour live broadcast in January.
Meanwhile, ABC is supposedly not interested in the Globes, as its focus is on the Oscars.